2015 - 2016 Southwest Trip
Day 158
2011 Trip across the US
2012 Trip across the US
2014 Trip across the US
2015 Trip to Alaska
Other Trips

Saturday, March 19, 2016, San Angelo State Park, San Angelo, TX, 239 Miles, 5,537.3 Miles for the Trip
A longer than usual drive, mostly on US 67. Not all that exciting a drive, but much better than the 60 miles I spent on I10. The plan was to stop at San Angelo State Park, with the nearby KOA as a backup if the park was full. Nothing to worry about - I'm in site 8 of the Red Arroyo area & when I arrived, there was one other trailer & one tent. A few more RVs have arrived as of 8:00PM, but it is anything but crowded. Since there is a lake, I suspect the park is a bit busier in warm weather. It is a water & electric site for $20.00 plus a $4.00 park entry fee. I'm here for two nights.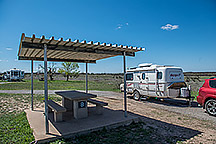 Site 8, San Angelo State Park, TX
After setting up I headed to town to do laundry. As usual, my GPS directed me to a dry cleaner. Somewhat unusual, Google did the same even though I did a search specifically for "Laundromat". As usual, the dry cleaning staff directed me to the nearest laundromat. After two loads of laundry, I headed for a Walmart Super Center, someplace I haven't been in quite awhile. Bought a couple of books & everything on my shopping list except Cape Cod potato chips. I'm still finding Alaskan Amber beer, but have had no luck since Washington State finding my favorite, Alaskan White.
After putting away the food, making the bed, I cooked & ate dinner - a couple of Chimichangas, (which, as far as I can see & taste, are fancy burritos) a peach and the rest of a pint of Blue Bell Homemade Vanilla Ice Cream (probably one of the best vanilla ice creams I've eaten). I had to eat half a pint since I couldn't fit it back in the freezer. After that I drove to the bathroom for a shower. It is just a little too far away to walk in flip flops, plus it is pretty cool out - already down to 50°F at 7:00. The shower (there is only one) is pretty good. Hot water, standard shower head, heat in the bathroom that works, enough hooks, the drying area stayed dry, etc.
Until next time -
---
This page is maintained by: vermilye@oswego.edu
Last Update: March 20, 2016