2015 - 2016 Southwest Trip
Day 160
2011 Trip across the US
2012 Trip across the US
2014 Trip across the US
2015 Trip to Alaska
Other Trips

Monday, March 21, 2016, Proctor Lake Corps of Engineers, Comanche, TX, 135.8 Miles, 5,673.1 Miles for the Trip
A 3 hour drive on secondary roads (US 67) to the Proctor Lake COE campground. I'm in site 21, an electric & water site for $8.00 with the Senior Pass. Proctor Lake is one of the few I've seen in Texas that looks full. Unlike the lake, the campground is empty. I'm the only one in my loop, and there is only one trailer in the next one. There does seem to be a section with a number of trailers - maybe a long term area (or the hosts)?
I was glad to get out of the car seat. Not that it is uncomfortable, but my back is giving me grief. My solution when I'm home is to swim laps for 1/2 an hour 5 days a week - tough to do on the road. Since I have electricity, I'll try a heating pad tonight.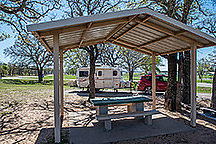 Site 21, Proctor Lake COE
I took a shower - individual bathrooms, one trashed, and the other very clean. Lots of hot water & the usual water saver, high pressure showerhead. I'm going to relax for the rest of the afternoon. No WiFi or Verizon here at the campground, but a good AT&T signal. While I can use the AT&T service to listen to NPR on my phone plugged into the trailer radio, I can't use the phone as a hotspot without giving up my unlimited data. So, this won't be posted until tomorrow.
Dinner will be a chicken mushroom pot pie.
Until next time -
---
This page is maintained by: vermilye@oswego.edu
Last Update: April 24, 2016