2015 - 2016 Southwest Trip
Day 162
2011 Trip across the US
2012 Trip across the US
2014 Trip across the US
2015 Trip to Alaska
Other Trips

Wednesday, March 23, 2016, Daisy State Park, Daisy, AR, 209 Miles, 6,054 Miles for the Trip
Just as I finished packing up the trailer this morning the man from the Water Department stopped by to collect the camping fee. $20.00 for full hookups.
Since I saved myself 30 miles on yesterday's drive, I added 30 miles to today's so I could drive through Oklahoma. No good reason other than I haven't been in the state in years, so I thought I should visit. I continued into Arkansas, and stopped for two nights at the Daisy State Park in Daisy, AR. Yes, AR. I keep thinking that Arizona should be AR, but after staying there for months, accepted that it is AZ, probably because Arkansas got the initials first.
A very pretty park, with most of the sites on Lake Greeson, although the ones I'm in are a 20' - 30' climb above the lake. I'm in site 21, close to very clean a very clean bathroom building. I got an out-of-state senior discount of $5.00, or $15.00 per night for a water & electric site. With tax, $16.58 per night for two nights. I have to admit to using the handicapped shower. There are two showers, and the standard one is very small, with the shower spraying directly into the drying area. There is a small bench, but no hooks for clothes & the bench gets wet. The handicapped shower is in a large room with the bench far enough from the shower heads that it stays dry. While there is no adjustment of water temperature, it is hot.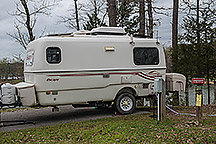 Site 21, Daisy State Park, AR
After my shower I decided to make some future plans since it is time for an oil change on the RAV4 & there is a couple of Toyota dealers in Little Rock. I couldn't get a site at the COE campground I wanted for Friday through Monday, but was able to get a site Friday at the Little Rock KOA, then move to the Maumelle COE campground Saturday through Monday. Of course, the KOA cost more for one night than the COE campground for 3 nights, but that's KOA!
Since I had a large lunch, I'm just going to snack for dinner.
Until next time -
---
This page is maintained by: vermilye@oswego.edu
Last Update: March 24, 2016