2015 - 2016 Southwest Trip
Day 164
2011 Trip across the US
2012 Trip across the US
2014 Trip across the US
2015 Trip to Alaska
Other Trips

Friday, March 25, 2016, Little Rock North KOA, AR, 99.3 Miles, 6,153.3 Miles for the Trip
The morning at Daisy State Park was interesting - I looked outside at 7:00AM & it was very foggy - the moon was a hazy white orb, and you couldn't see the water on either side. Very eerie. At 8:00AM it had all burned off, with blue skies, although cool at 39°F. Since I wasn't going too far & wanted to be sure my next site was available, I took my time & didn't pack up the trailer & headed out until 10:30.
I'm in site B9 at the Little Rock North KOA. This is my first KOA in a long time. Fairly typical, although the check in wasn't as friendly as usual. Maybe my new beard is giving people the wrong idea? Anyhow, expensive at $45.74 for the night, but a site wasn't available for tonight at the COE campground I'm heading to tomorrow. My site is full hookups, including cable, so at least I got to dump my tanks. The campground & my site are right next to I 430, a very busy interstate with lots or road noise.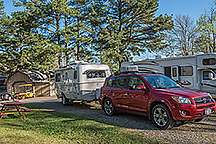 Site B9, Little Rock North KOA
The showers are OK, although it took 5 minutes for the hot water to get hot. A small drying room, but the shower curtain combined with the shower head perpendicular to it (it is amazing how many showers are set up so the shower sprays on the curtain (or the space where one would hang it there was one)). In any case, I'm clean. I sat outside and enjoyed the sun for much of the afternoon. While it is still a bit cool, the wind over the last couple of days has finally died down.
There was an ad for Papa John's pizza in the campground map, and I succumbed. Dinner was a small onion,mushroom,pepper pizza.
Until next time -
---
This page is maintained by: vermilye@oswego.edu
Last Update: March 26, 2016