2015 - 2016 Southwest Trip
Day 183
2011 Trip across the US
2012 Trip across the US
2014 Trip across the US
2015 Trip to Alaska
Other Trips

Wednesday, April 13, 2016, Townsend KOA, Townsend, TN, 155.9 Miles, 6,835.9 Miles for the Trip
I left Rock Island State Park around 9:00 heading to the Townsend KOA and the 2016 9th Annual Southeast Spring Eggscursion. Much of the drive was on US 70, although I was on I40 just long enough to remember why I don't like the interstates (at least one reason) - an eighteen wheeler decided the on ramp has the right-of-way. Actually, since he is 4 times the length on my combination, and probably 25 times heavier, I guess he does, legally or not. In any case I had to hop across unlevel lanes (they were repaving the road) to get out of his way.
I thought I'd be one of the first here, but the Townsend KOA is filled with eggs. Escape Trailer Industries is well represented - for some reason there are a bunch of Escape 19's. There are already 7 of them, and my 17. There are also a couple of Scamps, 2 Eggcampers, a U-Haul, and 8 Casitas. I'm in site 2, a full hookup site, including cable TV for $33.16 per night.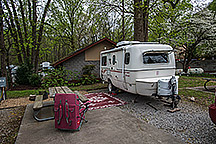 Site 2, Townsend KOA
There is also a Bronco rally going on at the same time. Most of them are staying in the Kabins, most on trailers although some were driven in. Some beautiful restorations...
I didn't do much other than appreciate the extended daylight ( I'm back in Eastern Daylight Time). I sat out & read - Started Signal by Patrick Lee. Around 5:30 I headed next door to the Riverstone Restaurant for a country fried steak & turnip greens. I had the same meal last year when I was at the rally, & it was just as good this time.
Until next time -
---
This page is maintained by: vermilye@oswego.edu
Last Update: April 14, 2016