2015 - 2016 Southwest Trip
Day 190
2011 Trip across the US
2012 Trip across the US
2014 Trip across the US
2015 Trip to Alaska
Other Trips

Wednesday, April 20, 2016, Caledonia State Park, Fayetteville, PA, 196.7 Miles, 7,339.8 Miles for the Trip
A fairly normal to long drive on both I81 & US 11. I'm trying to stop at parks I haven't visited before, and Caledonia State Park in PA is one of them. They have two campgrounds, the Chinquapin Hill doesn't open until Memorial Day, but the Hosack Run opens the Friday before trout season & closes at the end of deer season. It is about 1/2 filled with a variety of RVs. I'm in site 175, a site level enough that I didn't need to unhook, and close to the bathrooms & showers. By the way, the showers get a "C-". Good shower head, somewhat rustic, but small stalls & drying room with one hook (no hook or shelf in the shower itself). The minus is because while the push button control provides hot water for the first 3 pushes, after that it turns lukewarm, it that. I don't know if it is a too small water heater or designed that way to chase you out, but it is annoying, even to those like me that take quick showers.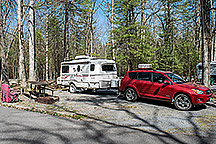 Site 175, Caledonia State Park, PA
I checked out the bathrooms & they have an outside dishwashing sink. When ever I'm in a campground that has one, and I don't have full hookups, I consider making spaghetti & meatballs since the sauce requires lots of water to clean up after. Since my site is electric only, I decided to make spaghetti & meatballs & clean up at the sink. The spaghetti & meatball dinner was great. No Italian bread so I had a bagel with it. Only problem - it must be early enough in the season that they haven't hooked up the outdoor sink yet - no water. So, I used lots at the sink in the trailer.
Until next time -
---
This page is maintained by: vermilye@oswego.edu
Last Update: April 21, 2016