2017 - 2018 Trip to Pick Up the New Escape 21 & More
Day 155
2011 Trip across the US
2012 Trip across the US
2014 Trip across the US
2015 Trip to Alaska
2015-16 Southwest Trip
2016 New England Trip
2016 - 17 Southwest Trip
Saturday, January 6, 2018 - La Posa West LTVA, Quartzsite, AZ, Day 48, 0 Miles, 3,740.2 Towing Miles For the Trip
On the way to coffee this morning I got chased by a pair of dachshunds. Annoying since dogs are suppose to be on leashes. The lady who owned them kept saying "bad dog", but they kept nipping at my heals as I went by their trailer. Maybe I should start carrying pepper spray (which would be best used on the owners)! I stopped to take another photo of the big tent as I went by. It gives you some idea of the size of the thing.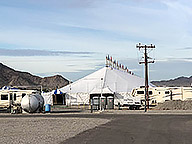 The Big Tent
While it started out cloudy, the sun came out for most of the afternoon, although some haze moved in around 2:00. Still very pleasant - 78°F, and the haze provided some shade. I called my son in Oswego, and it is well below freezing, with below 0°F windchill. Unfortunately, they sent him outside to shovel at work last night. At least he knows about dressing in layers!
I spent part of the afternoon chatting with Linda, and sitting around. Since the trailer batteries were fully charged by 1:00, I fired up the inverter & charged all my devices requiring 120V chargers. The output of the solar controller went from loafing a 1.5 amps floating the trailer batteries to 11 amps running the chargers. A good way to avoid wasting solar energy once the batteries are full.
After that it was a bit more reading, then an easy dinner out of the freezer - the last container of left over Chili.

Until Tomorrow -
---
This page is maintained by: vermilye@oswego.edu
Last Update: January 7, 2018