2017 - 2018 Trip to Pick Up the New Escape 21 & More
Day 156
2011 Trip across the US
2012 Trip across the US
2014 Trip across the US
2015 Trip to Alaska
2015-16 Southwest Trip
2016 New England Trip
2016 - 17 Southwest Trip
Sunday, January 7, 2018 - La Posa West LTVA, Quartzsite, AZ, Day 49, 0 Miles, 3,740.2 Towing Miles For the Trip
I decided to head to the Bad Boy Cafe for breakfast this morning. Had their stuffed biscuits special - 2 biscuits stuffed with sausage, gravy & one egg. (A good healthy breakfast - not!)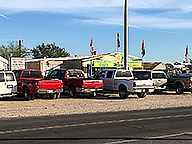 The Bad Boy Cafe
After breakfast I finished off my mug of coffee back at the trailer reading forums & blogs, then sat outside reading. I eventually went back in the trailer to change to jeans; with the limited sun & wind, it was a little too cool for the shorts I started the day with.
I dug out the more difficult puzzle my daughter & son-in-law sent me for Christmas. The first one was easy & only took a few minutes to take apart, but the second one was tough. I probably spent a total of 6 - 8 hours over the days since Christmas, but solved it today. Don't look at the photo of the opened puzzle if you want to do it from scratch - the photo gives a big hint.
Easy Puzzle
Not so Easy Puzzle
Later in the day I chatted & drank a glass of wine with Linda, then got a call from Don & Anne. They made it from South Carolina back to Binghamton, NY OK, although they had a full driveway when they got home.
Dinner was a veggie burger & the remainder of the asparagus.

Until Tomorrow -
---
This page is maintained by: vermilye@oswego.edu
Last Update: January 8, 2018