2018 - 2019 Trip
Day 244
2011 Trip across the US
2012 Trip across the US
2014 Trip across the US
2015 Trip to Alaska
2015-16 Southwest Trip
2016 New England Trip
2016 - 17 Southwest Trip
2017 - 18 Trip to Pick Up a New Escape 21 Trailer & More
Friday, April 5, 2019 - Fall Creek Falls State Park - 113.7 Miles, 10,636.5 Miles for the Trip
Since I knew it would be a short haul to the next campground, I was in no rush to pack up & leave. I headed out of Henry Horton around 10:00, heading north & east on US 231, US 70S, and TN 30. I stopped along the way at a Walmart for some bottled water.
I'm in site B94, a full hookup site for $39.03 per night. Another "slight" slope, although not as bad as Henry Horton. A very crowded campground with other RVs in front, back and one each side. A medium hike to the bathrooms.

After setting up I headed to the laundry. One of the few laundromats that doesn't have near by parking. Not a bad walk from the truck, but if I was smaller, I'd be struggling with a full laundry basket. Top loading commercial washers for $1.50, and new dryers for $1.00. No baskets to move your stuff from the washers to the dryers, and only one small folding table. No inside seating, but there are tables outside. They also have a "outfitters" store - "T" shirts +, and a small camp store selling more stuff than most campground stores. Next to the pool is a snack bar. All are a mile or two from the campsite.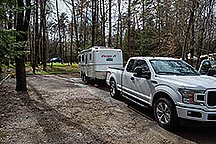 Site B94
Back at the trailer I ran my usual cell tests - AT&T is at -95dBm with & without the amplifier, 30.3Mbps down & 16.7Mbps up. Verizon is at -103 without the amp & 98 with, 52.1Mnps down & 6.6Mbps up. The campground has WiFi provided by Tengonet, a WiFi provider that covers many campgrounds across the US. No charge for the 4 days I'm here, although to log on I had to change my Tengonet password that I've been using for years. Another interesting problem. I went to my bill paying service at my bank and it kept giving me error messages. Tried a different browser since Safari updated theirs the other day, but the same problem. Called the help desk at the bank & they discovered that my IP (the assigned internet address that Tengonet gives users when they log on) kept changing, which upset the bank's secure connection. I switched back to AT&T and the problem went away. Anyway, the speed for Tengonet's WiFi was 4.8Mbps down & 1.1Mbps up. I think I'll stick with my cell services!
I showed the trailer to a couple that are thinking of purchasing an Escape 21, then put away my clothes, and made dinner. I microwaved a couple of El Monterey Quesadillas. No where near as good as the Chicken, Cheddar and Mozzarella Cheese Empanadas, but I've given up on them. El Monterey still lists them on their website, as does Walmart, but I haven't seen them in any Walmart in over a year. I was going to have a salad with the Quesadillas, but it was bad. Should have checked before stopping at Walmart since there isn't any nearby grocery stores.
Until Tomorrow -
---
This page is maintained by: vermilye@oswego.edu
Last Update: April 6, 2019