2010 Trip to Oceanside, Washington DC, Babcock State Park, WV & Ricketts Glen, PA
Page 12
Back to Jon Vermilye's Photo & Trip Page
Other Trips:
---
Previous
Tuesday, April 13th, 2010
Well, it's bright & early (actually only early - it is raining) and a little chilly at 44°. Actually, the overcast day is good for taking pictures of waterfalls. Although a bright blue sky with fluffy clouds looks nice above a waterfall, the bright sun through the trees makes even exposures difficult. And the rain isn't too bad; more like a heavy mist.
By the way, the breakfast at Super 8 may be better than the one at Motel 6, but a cold muffin is nothing to compare to the do it yourself waffles at the Quality Inn, and the Quality Inn was cheaper!
A quick drive to the route 118 entrance to the waterfall trail and it's off for a hike. And it is a hike. I didn't have a pedometer with me, but according to the map, I walked 5.8 miles. Not so bad on the flats, but most of this was either up or down hill, climbing steps, trails, or along side the streams. The map describes the Falls Trail as "Very Difficult". As a 65 year old moderately active photographer, I'd say it is a long way from Handicapped Accessible, but as long as you take a break every once in awhile, not all that bad. The Pennsylvania Park Service has built steps to navigate the difficult climbs around the falls, added bridges to switch sides of the stream, and added flat rocks & gravel to get around the muddy areas.
I started around 9:00am from the Rt 118 Trail head parking lot, split to Glen Leigh at Waters Meet, crossed to Ganoga Glen on the Highland Trail, and returned to the parking area around 12:20pm. The rain had stopped about half way through the hike.
I'm only adding a few photos here. I added a couple of pages with images of all the falls & cascades along the streams: Ricketts Glen
After the walk it was time to head home. On the way I ended up just a few miles from Watkins Glen so I stopped to spend some time walking through it. Unfortunately, only the upper trails were open - the walk through the glen will have to wait. I did get a chance to stop at Montour Falls. It is interesting in that it is located right in the middle of town.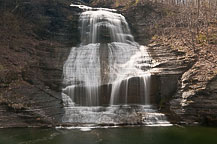 From there it was a short drive home. Total mileage for the trip - 1775.
---
This page is maintained by: vermilye@oswego.edu
Last Update: March 20, 2012