Nantucket - Monday, August 11th, 2008
Back to Jon Vermilye's Photo Page
Other Trips:
---
Sunday, August 10th
Tuesday, August 12th
---
Woke up to cold temperatures this morning. It has been around 70° every morning so far, but today it was around 60°. At least it was nice & cool for my morning jog.
David would like us to use the outside shower to take the pressure off his septic system, which has been great on the warmer days, but this morning the wind and temperature made for a quick shower & an appreciation for indoor plumbing.
They are building an addition on to the house across Paradise Lane from David's. It looks like they are using pre built panels - a big crane (well, big for Nantucket) was moving them around:

When we finally got underway, we stopped at the Hospital Thrift Shop to look for books, a stroller for Valerie when she gets here (She & Karin are flying, so there is only so much she can bring with her) and "stuff". Because we had Carol with us, there was a parking spot two car lengths from the door. I don't know how she does it, but when she is in the car there is always a good parking spot! While we were in the shop it started to rain. Instantly, every store in Nantucket becomes full. There must be some teleporter that moves people from the beach to downtown at the first drop. Since out next stop was the Stop & Shop to get tonight's Chili materials, Carol's magic came in handy. The store was a bit crowded, but we made it. We are now doing lunch & getting ready to go to the dump.
We are back from the dump. We all picked up something from the "Take it or Leave it". As I have noted in previous years, since Nantucket is a relatively small island (about 15 X 5 miles) garbage can be a problem - eventually, much of it has to be trucked off island. They do some serious recycling including a building for "useful" stuff. I picked up a 1/2 dozen books, Don & Anne got books & Carol found a pinwheel for Karin & some toys for Valerie.
After returning from the dump I shot a couple of more photos of the process of building the addition next door. Interesting, the panels were built in Onondaga county, in NY & shipped to Nantucket. The crew chief said it usually takes around 8 hours to complete the shell of a house using this system. Because of the rain they will take a little longer on this one.
| | | | |
| --- | --- | --- | --- |
| | | | |
| This Towed the House | Getting a Panel | Hooking Up | Setting a Panel |
I also reshot the panorama I am using for a blog article that I posted on Friday. I used Photomatix to build a HDR image with my 10mm lens for the first image, then shot a panorama made up of 11 17mm frames to build the second. The sky burned out in the panorama. I could have fixed it by shooting each of the 11 frames as an 3 shot HDR, but that would end up being 33 images - a bit more than I want to spend the time on. Anyway here is the result:
(The large versions are 16" 72 dpi images <300K)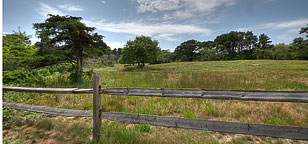 This is as wide as I can shoot with my widest lens, a 10mm - 20mm Sigma zoom. There is also quite a bit of edge distortion. Compare the shape of the left most tree in each image.

By stitching together a bunch of images, I can end up with a much wider photo.
We are having Chili for dinner. Should be interesting - David has "Hot Mexican Chili Powder;" I usually use plain old chili powder, so I guess we will find out what the difference is in about an hour!
Till Tomorrow!
Sunday, August 10th
Tuesday, August 12th