A Trip Across the USA
Jon Vermilye's Photo Page
---
---
May 21 - Continued
We have been following Washington Route 20 from one end of the state to the other. The weather has been wonderful for the last two days, so I guess it was time - heavy clouds, getting heavier as we go West. The prediction is for rain for the next few days.
We drove across the Route 20 bridge over Deception Pass - about all you could see was mist. I've been told to stop & walk across the bridge for the view, but there wasn't one today. Maybe next time. Then a ferry ride to Port Townsend & to the end of Washington Route 20. After that it is on to US 101, the Pacific Coast Highway.
Because of the prediction of rain, we stopped for the night in Port Angeles, WA at the Riviera Inn Motel. The plan is to go to Hurricane Ridge tomorrow if the fog & rain has lifted enough to see. After that, out to Neah Bay, & then into Olympic National Park.
---

May 22 - Olympic National Park & Neah Bay
After a filling breakfast at the Harbor Cafe it was off to Hurricane Ridge for a look at the mountains. See photos below. We really need to rent ourselves out as rain makers! Anyhow, after that we drove out Washington Route 112 to the Makah Indian Reservation at Neah Bay. A nice drive, although filled with 20 mph curves. We returned via Washington Route 113 to US 101 & into the park at the Hoh Rain Forest entrance. We are camped in site 32 for tonight.
| | | |
| --- | --- | --- |
| | | |
| A Park & Tanker in Port Angeles | No, We Couldn't! See Next Image - | This is the View Above the Sign in the Previous Photo |
| | | |
| The View From Hurricane Ridge | Neah Bay | Rocks in the Juan de Fuca Strait |
It is now dinner time so I need to stop. Until tomorrow!
---
May 23 - Hoh Rain Forest

Well, I think we need to modify our description as rain makers. We are actually weather contrarians. Last night (in the RAIN FOREST) was the clearest night we have had on the trip. The sky was full of stars & the Milky Way. It was a bit cool - 41 degrees, not that we are complaining!

The Hoh Rain Forest is interesting, but I would suggest anyone that wants the spooky feeling of being dominated by trees to also check out Rockport State Park near Concrete, WA. They are both impressive; I'll leave it up to you as to which is better. One thing - the trees are so close to each other at Rockport that you cannot photograph the trees themselves, even in the campground. Hoh is more open, at least in the camping areas.

We stopped for lunch at a small cafe in Amanda Park, WA at the entrance to the North road into the Quinault Rain Forest section of Olympic National Park. Jim, the owner of the restaurant worked for the Washington Public Works for many years driving most of the state roads throughout Washington. He had many stories to tell, both about places to go & places we have already seen. He suggested taking the 24 mile Park loop around Quinault Lake. The paved road turns to a one lane (two way) gravel & dirt one once it passes the end of the lake. It really feels like you are driving through a rain forest (I guess because you are!) Anyway, a neat trip. Don't try it in anything longer than a car, at least on the North side! We photographed a few waterfalls on the South side of the lake, then into Aberdeen & the Red Lion Hotel for the night.

This is our last night with Don & Anne - they need to head back to Missoula to drop off their car & catch an early flight Wednesday back to Binghamton. We will miss both of them!
| | | |
| --- | --- | --- |
| | | |
| The Hoh Rain Forest, Olympic National Park, WA | Our Campsite at Hoh | 6 Second Fire Lighted Image |
| | | |
| They Warned Us About Elk - He's OK | More Hoh Rain Forest | The Pacific Ocean Near Ruby Beach, WA |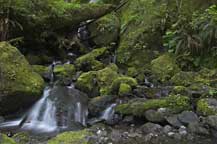 A Waterfall, South Side of Quinault Lake
---

May 24 - Into Oregon

We had a farewell breakfast, at Dennys of course, after which Don & Anne headed East on 12 & we went South on 101.
Actually, we didn't go too far - we needed to do laundry & went looking for an internet connection. Found a laundromat, but no internet connection. Last night's Red Lion advertised "High Speed Wireless Internet" but I don't know what it was - My Macintosh couldn't see it - they rented the card & software for $5.00 per night that was PC only. So, it will be at least another day before I can update the pages.

We crossed into Oregon, stopped to take some photos of Haystack Rock at Cannon Beach, and called it an early night at The Bunk House - Cabins, Rooms, His & Her Hair Cuts, and Restaurant in Nehalem, OR.
| | |
| --- | --- |
| | |
| Haystack Rock, Cannon Beach, OR | Haystack Rock, Cannon Beach, OR |

Until the next internet connection...
---
May 25 - Silver Falls State Park
We got an early start from the Bunk House - no time for a haircut. Continued down US 101 until we hit Hebo & Oregon Route 22. This is another curvy but pretty road that connects to Salem, OR. We stopped for some food & ice, and a replacement LCD cover for my Nikon D100 (don't ask why, please!) then continued on to Silver Falls State Park. This is suppose to have a series of waterfalls much like Ricketts Glen in PA. They probably do, but it is difficult to find out where they are. We finally drove to the North Falls, which has both a Lower & Upper version. Both are very nice - but by the time I figured out where the rest were, there wasn't enough time to hike to all of them.
| | | |
| --- | --- | --- |
| | | |
| Lower North Falls, Silver Falls State Park, OR | Cascade above Lower North Falls, Silver Falls State Park, OR | Upper North Falls, Silver Falls State Park, OR |
We then headed down Interstate 5 to Eugene, OR hoping to find a motel with a high speed internet connection. We did, and are staying at the Franklin Motor Inn in Eugene, OR, and, as you can probably tell, updated the web pages.
Tomorrow it is off to Crater Lake!
---
This page is maintained by: vermilye@oswego.edu
Last Update: March 25, 2012