2014 Trip Across the US & Canada
Day 67
2011 Trip across the US
2012 Trip across the US
Other Trips
Sunday, December 15, 2013, Buckskin Mountain State Park, AZ, Day 7 - 0 miles, 4,822.7 For the Trip
I got a late start today, not that I had anything to do! I did listen to the Weekend Edition Puzzler on NPR the second time around - the first was at 6:40AM & I was still sleeping. I spent much of the day updating the RV blogs section of my website. I don't update that section anywhere near as much as I do when at home - I don't read as many new blogs, and while traveling, spend most of my web authoring time on my travel blog. Still, I do try to keep adding any new blogs I discover.
Since it was another beautiful day, I spent the rest of it outside reading and enjoying the sun. Today's only photo is of the new thermostat I added Friday. Notice the temperature reading - I almost had to turn on the Maxx fan to cool off the trailer. There won't be any star photos for awhile; almost a full moon tonight so very few are visible, and there isn't much around the trailer that makes a good moonlit photo.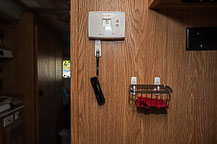 I did get to spend some time with a couple of camping neighbors talking about the area, camping, RVs, and feeding the Quail. My dinner was a NY Strip steak, Korr's Rice & Broccoli, and some Tom & Jerry's Vanilla ice cream. Right now I'm enjoying a cup of hot Celestial Seasons Sweet Orange Tangerine tea.
Until tomorrow -
---
This page is maintained by: vermilye@oswego.edu
Last Update: November 27, 2014