2014 Trip Across the US & Canada
Day 76
2011 Trip across the US
2012 Trip across the US
Other Trips
Tuesday, December 24, 2013, Cattail Cove State Park, AZ, Day 2 - 0 miles, 4,860.4 For the Trip
After breakfast I checked with the campground gate on how one registered for tomorrow's pot luck dinner. They had a sign up list & I signed up to make an Apple Pie. I usually do blueberry, but it takes about 40 - 50 ounces of blueberries to make a pie, and at $4.99 for a 6 ounce box that makes for an expensive pie. I'll save blueberries for the summer when they are in season. I usually decorate the pie with trees with apples, but since it's a RV pot luck, I made as many different types of RVs as I could thing of.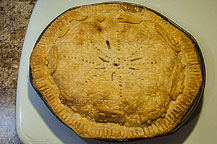 Before stopping at Bashas' , an Arizona based grocery store for the apples and other supplies, I did laundry. Both are about 12 miles away in Lake Havasu City.
After getting back to the campground I made & baked the pie, took a shower, and made dinner. I do have an experiment for someone to do regarding showers. Is it more cost effective to use one of the fine spray water saver shower heads when the fine spray cools the water down so much you turn up the hot water higher, or would it be just as well to use a normal shower head that has a strong stream that stays warm? Anyone up for a weird thesis? I definitely prefer the thicker stream of water over the needle spray.
Dinner was a frozen orange Chicken with rice dinner form Marie Callender's. While I usually only eat her pot pies, they didn't have the variety I liked, so I decided to try this. I'd have to rate it as OK for a frozen dinner.
Until tomorrow -
---
This page is maintained by: vermilye@oswego.edu
Last Update: November 27, 2014