2014 Trip Across the US & Canada
Day 77
2011 Trip across the US
2012 Trip across the US
Other Trips
Wednesday, December 25, 2013, Cattail Cove State Park, AZ, Day 3 - 0 miles, 4,860.4 For the Trip
Merry Christmas! We had a Christmas Pot Luck dinner at 1:00 this afternoon. The food was great, as usual for pot lucks. Lots of interesting things to eat, and, also as usual, I ate far too much. The problem is you just have to try everything. I was only able to get rid of 1/2 my apple pie - there was another one as well as a very good apple crisp, so I still have lots of left overs.
After the pot luck I Skyped & called a bunch of people to wish them a happy Christmas, and gloat over the 73°F sunny weather. While having a white Christmas has always been a plus back east, I don't miss it at all.
Since I didn't take any photos today, I thought I'd post one as a reminder of why I'm here rather than in Oswego - a winter storm on Lake Ontario: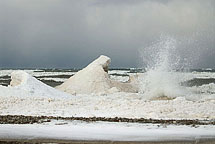 With the huge early dinner, my evening meal was a piece of pie.
Until tomorrow -
---
This page is maintained by: vermilye@oswego.edu
Last Update: November 27, 2014