2014 Trip Across the US & Canada
Day 296
2011 Trip across the US
2012 Trip across the US
Other Trips
Friday, August 1, 2014, Sunrise Campground, Storm Lake, IA 190.9 miles, 14,731.6 For the Trip
Another 190 miles towards home, cruising on US 20. Stopping for fuel in Iowa is confusing. They have all kinds of different ethanol blended gas. Since E10 is the highest blend I can put in the RAV4, I ended up at the wrong pump. They have E10, E15, E20, and E85. My last Town & Country was a flex fuel vehicle, but not the RAV.
That was about all the excitement I had for the drive. I stopped for the afternoon at Sunrise Campground at Storm Lake, IA. I did have to look up the state initials for Iowa - somehow IW didn't look right.
Since i was down to 2 pairs of socks, I needed to do laundry, and the laundromat is not too far from my site (706), and only $1.00 for wash or dry. While a fairly crowded campground, the facilities are nice, clean, and centrally located. Individual bathrooms with showers (push button). $21.00 for full hookups. My site only had 50 amp receptacles available at the pedestal - I have an adapter, so it was no problem.
When I checked my mail at the campground I discovered that I had an invitation from another Escape owner for a place to camp for the night. Unfortunately, I was already here, and will want to go further tomorrow, but they will be attending the Niagara Escape Rally in September, so I'll meet them there.
The only photo for the day was the campsite: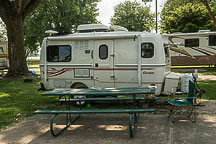 Site 706, Sunrise Campground, Storm Lake, IA
I stopped at a roadside truck for one ear of corn, and will have it with a steak for dinner.
Until tomorrow.
---
This page is maintained by: vermilye@oswego.edu
Last Update: August 2, 2014