2014 Trip Across the US & Canada
Day 297
2011 Trip across the US
2012 Trip across the US
Other Trips
Saturday, August 2, 2014 Swiss Valley County Park, Dubuque , IA - 235.8 miles, 14,967.4 For the Trip
It started out as a fairly boring drive along US 20, which, for most of the drive resembled a 4 lane interstate. 235 miles of corn & soybeans. I pulled into the Swiss Valley County Park, and only found one site open. I took it, and soon discovered that I had a new record for the least desirable neighbors. First, 3 cars worth, one of which arrived & parked so they blocked my car (of course, on my site). They evidently had been using both sites until I got here, and seemed really put out that I took it, wandering through the site, etc. To top it off, they burned their garbage in their fire pit, stinking up the trailer. On the other hand, the price is only $16.00 for water & electric, but I'd pay more if I could move...
The next discovery is a nail in one of my trailer tires. I checked the tire pressure & it was down to 28 lbs - lucky I didn't have a blowout. I refilled it, but am either going to have to wait until Monday to get it repaired, or try to jack up the trailer to change it with the spare, neither of which seems like a good option. Maybe another site will open up tomorrow & I can move, and wait until Monday. Probably not my favorite day of the trip!
The only photo is the site photo.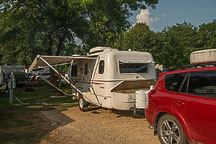 Site 24, Swiss Valley County Park
Oh, I forgot to mention, the day started off as a bad one - Getting out of bed I stepped into a puddle of milk on the floor. Seems I had a slow leak in my bottle of milk that ran down the face of the cabinet below the refrigerator, under the refrigerator, etc. I spent about a half an hour & most of a roll of paper towels cleaning up the mess, but there is no way to get at what ever ran under the fridge. I guess I'll discover tomorrow or the next day how well I did cleaning up!
Dinner will be a grilled chicken sandwich.
Until tomorrow.
---
This page is maintained by: vermilye@oswego.edu
Last Update: August 3, 2014