2015 Trip to Alaska & More
Day 9 -
2011 Trip across the US
2012 Trip across the US
2014 Trip across the US
Other Trips
Tuesday, June 16, 2015, Campland RV Resort, Saskatoon, SK, 243.8 Miles Today, 1978 Miles for the Trip
Last night I managed to overwrite Sunday's page. I usually copy the previous day's page & save it as the next day, however once each trip I manage to forget to do a "save as" and kill the page. Of course I did it when I didn't have an internet connection to download the page from the website, so I had to wait until today.
We drove up 39 to 6 to 11 and stopped at Lumdsen, SK to try to fix my phone. Don & I both added AT&T's Passport service to get 30 days or reduced rates for Canada. His worked fine, however with us sitting next to each other, he had service & I didn't. Of course I couldn't call to find out why, and had no internet to find out why on line. Anne called while Don was driving, and they needed me & my phone to fix the problem, so the nearest stop was Lumdsen. Turns out AT&T had turned off international roaming when I was camped next to Mexico 2 years ago & never turned it back on. Evidently, turning it off & on at my phone has no effect on international roaming if AT&T shuts it off. Anyhow, I now have service. We also stopped at a bank ATM to get some Canadian money. My exchange rate was 1.1598, which seems a bit low, however my bank does not charge a transaction fee & refunds the ATM fee, so I'm happy.
Most of the drive was on either flat 2 lane or 4 lane roads, so we didn't hold up traffic driving at 95KPH, even in the 110KPH portions. My mileage is just below 14.7MPG (US).
We stopped for the afternoon at the Campland RV Resort, sites 6 & 7. Full hookups sites for $37.80 with my Good Sam's discount. The campground WiFi is solid & fast enough to post the web page. Well, it was! OK at 3:00, but now at 9:00PM it is just about dead.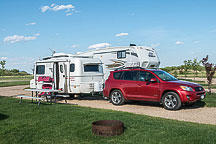 After setting up, Don & Anne drove into Saskatoon looking for an Anderson Leveler. For those with a single axle trailer I believe it is the best way possible to level a trailer. Slip it under the low side tire, drive onto it until level & you are done. They are also looking for a CB microphone that fits a Radio Shack CB. We believe theirs died - They can hear me, I can't hear them although I do see their RF transmission on my CB. Good luck finding one! We are now using my hand held radios.
Not sure what dinner will be - if they find something interesting, that will be it, otherwise we will finish off the brots, sausage, and a salad. (That is what we had).
Until Later -
---
This page is maintained by: vermilye@oswego.edu
Last Update: June 17, 2015