2015 Trip to Alaska & More
Day 19 -
2011 Trip across the US
2012 Trip across the US
2014 Trip across the US
Other Trips
Friday, June 26, 2015, Tok RV Village, Tok, AK, 236.8 Miles Today, (Mile 1313.4 of the AK Highway) 3924.6 Miles for the Trip
We are in Alaska!
We ate breakfast at the Destruction Bay Lodge; good food & service. After packing up, we hit the road. The plan was to get gas at the station in Burwash Landing, the next town, but when we got there we found the pumps, but no one to run them & no card service. So, ten miles back to Destruction Bay & the Fast Gas next to the campground. I really have to follow my own advice - never pass a gas station or bathroom (although technically, we didn't pass it; it was 1/4 mile before the campground)!
The section of Highway 1 (the Alaska Highway) between Haines Junction & the Alaska border is beautiful, with many lakes & mountains along side the road. The road got very rough north of Koidern. Many sections were loose gravel, complete with potholes & washboarding. Much of that section was 15 MPH or less. After we got through the worst of it, we stopped for a potty break & found minor destruction in the trailers. I had one cabinet open, dumping a bunch of stuff on the floor, but nothing broken. Don & Anne had the furnace cover fall off, curtain rods come down, and some cabinet emptying as well. Again, nothing broken.
The border crossing went well - a few questions, but they let everything through. We pulled into Three Bears Campground, but they were closed between 2:00 & 3:00. Since it looked like a thunderstorm was heading our way, when no one showed up by 3:10, we drove across the street to Tok RV Village. $39.15 with a Good Sam's discount for a water & electric site (also TV, but neither of us has one). Not the levelest of sites - I had to unhook to get the tongue low enough to level the trailer, but trees between sites provide some screening & shade. Don & Anne are in site 810, I'm in 809.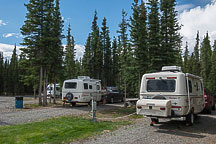 We are still thinking about dinner. There is a restaurant near by, so if the rain does set in, that is what we will probably do.
Well, it didn't rain, so it was spaghetti & meatballs, along with the rest of the salad, and a bottle of Canadian wine.
Until next time -
---
This page is maintained by: vermilye@oswego.edu
Last Update: June 27, 2015