2015 Trip to Alaska & More
Day 27 -
2011 Trip across the US
2012 Trip across the US
2014 Trip across the US
Other Trips
Saturday, July 4, 2015, Alaskan Angler RV Resort, Ninilchik, AK, Day 2 - 0 Miles Today, 4642.4 Miles for the Trip
Happy 4th of July!
Another late start, but mostly because we didn't have to move sites today. We had a blueberry pancake breakfast made with the left over blueberries from making the pie yesterday. We cooked & ate under Don & Anne's awning since it was raining.
After breakfast we hung out in the trailers, reading, and relaxing. The plan was to head back to Homer for a early fish dinner. We arrived around 4:00. While it rained most of the way, there was less fog on the bay, at least viewed from the top of the hill, so I took a panorama. As usual, there is a large 2.2MB version available. On the front of the Homer Spit is a ship graveyard. One of them is "interesting" so I took a photo. Those are the only pictures for the day.

A Panorama of the View Entering Homer, AK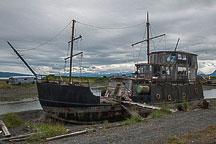 An Interesting Boat
Dinner was at Captain Pattie's Fish House. I had grilled Halibut, which was excellent.
Until tomorrow.
---
This page is maintained by: vermilye@oswego.edu
Last Update: July 5, 2015