2015 Trip to Alaska & More
Day 54 -
2011 Trip across the US
2012 Trip across the US
2014 Trip across the US
Other Trips
Friday, July 31, 2015, Lake Ki RV Resort & Camp, Arlington, WA - 85.9 Miles Today, 7717.5 For the Trip
The earliest start of the trip - I was out of the campground at 6:30AM, much too early for us retired guys! John at Roland Toyota of Everett said it would take 2 hours from Bellingham to Everett, but at that time of day the traffic was minimal, and it only took an hour. I got permission from the store manager at Albertsons to leave the trailer there (across the street from Toyota) since there was very little parking at the Toyota dealer. They had the oil seal replaced by 11:30, I did some shopping at Albertson's, then headed north to Arlington & the Lake Ki RV Resort & Camp.
While resort in name, it is only one by price - $40.00 per night for full hookups. The bathrooms & pay showers ($1.00 for ? minutes) as well as the laundry are as far away as they could be and still be in the same park. The sites are difficult to find; a poor map & the only site id is a small tag on the power pedestal (although some sites have a small sign on the picnic table). There are also many dead ended sections that are difficult to tell from the main loop. I had to do some tight turns to get out of a couple of them before I parked the trailer & walked around until I found my site. I'm in site 22. All that said, the laundry is inexpensive - I did a double load.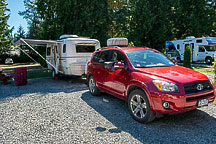 By the time I was done with laundry & sitting around reading, it was time for dinner. Albertsons had small seasoned round steaks that were priced by one, get two free, with two steaks per package, so I went for it. A bit tougher than I'm used to, but you can't beat the price. So, dinner was a steak & mashed potatoes.
Until tomorrow -
---
This page is maintained by: vermilye@oswego.edu
Last Update: August 2, 2015