Fall in the Adirondacks October 9th & 10th, 2007
To see a larger image, click on the photo
Other Pages:
Animals & Insects
Birds
Flowers
Flowers, Page 2
Landscapes / Scenic
Lighthouses
New England & Nantucket
Oswego
Other Images
State & National Parks
Theatrical Images
Waterfalls

Back to Jon Vermilye's Photo Page
2004 Adirondack Trip
2010 Adirondack Trip
Other Trips:
---
---
We have one of the most beautiful places to see Fall colors in the USA - the Adirondacks. Well, maybe I'm over doing it a bit, but not by much. The only thing missing is the contrast between the mountains & Aspens you get out West, but I think the colors of our sugar maples by far makes up for that.
We decided to go to Lake Placid this trip. It is still only going to be two days since we have a number of other trips to Long Island & Washington, DC over the next two months. Carol didn't get to see the Maple Ridge Wind Farm on our last trip so we drove by - it is even more impressive with all the wind turbines in place. Didn't get any good images this time, but if you get a chance, it is well worth a visit.
I planned the trip using Delorme's Street Atlas +, and for the first time had lots of problems. It would crash as soon as I tried to change the map size after the GPS was up & running. Not sure why - I have not been able to find new drivers for the Holux 213 USB so I'm not sure what the problem is. It has worked well around Oswego County, but I have not tried to use it on a long trip since updating from the 2006 version.
Anyhow, we got by using my Garmin 2730 & punching in towns along the routes I wanted to take. We were going to try to stop at the Stillwater Reservoir using Route 26, but both the GPS & the AAA Adirondack North Country Map didn't give the impression that it was an all weather road. Since we are driving a minivan & the prediction is for rain, we decided to take Rt 12 & The Moose River Road.
Our first photo op was a section of the Moose River along side the Moose River Road. By the way, using a GPS to write location data to the EXIF data for each photograph is a good way to remember where you took each image, however the camera & the GPS record the information in different formats - you can't put the camera EXIF file back into the GPS to find the location. Doesn't make much sense, but using a GPS Coordinate Converter can place the camera locations on a Google Map. So, here are a couple of photos of the Moose River:
I imagine I drive Carol crazy stopping at every lake, stream or waterfall, but I just have to! The next stop is along NY Route 28 (one of my favorites!) at one of the Fulton Chain Lakes - 7th Lake (they didn't get too creative naming them). This was one of the few lakes along the trip that was protected enough from the wind to show mirror like reflections:
Although we took photos of Buttermilk Falls on our 2004 trip, there is a lot less water in most of the rivers & many of the lakes this Fall, and since we are driving by it anyway, I decided to stop again. It is different - I'm not sure which I like best, but the light the morning of the 2004 trip was beautiful.
This is Buttermilk Falls at Long Lake. There are many other Buttermilk Falls, even a more popular one in Ithaca, NY. This one is a very easy 50' walk from a stop on North Point Road which is just off Rt 28N/Rt30 a little south of Long Lake.
I made an interesting discovery this time at the falls. A Nokia 6102i cell phone is capable of recovering from a 5 seconds under 1' of fresh water. Don't ask how I found out!
After leaving the falls, we continued to Lake Placid. Neither of us have ever been there so it was an interesting drive. The motel we planned to stay didn't have any rooms left on the ground floor, and since we had Carol's oxygen concentrator with us, we didn't want to lug it upstairs. So, we continued on to the Econo Lodge. The room was OK with a sliding glass door to the parking space outside.
The next day we planned to drive down Rt 73 to Rt 9 & then take Rt 8 across the park & then pick up Rt 69 in Rome. There are some beautiful parts of the park along Rt 73. I was looking for a couple of cascades that were listed at Jon Binder's Waterfall Site, however although we found the location, there were no cascades. The water levels are so low that many of the falls & streams are non existent. In any case, here are some images from the drive:
Along Rt 73 SE of Lake Placid
| | |
| --- | --- |
| | |
| Along Rt 73 SE of Lake Placid | Roaring Falls, Rt 73 |
A little further down Rt 73 a little before it joins Rt 9 we stopped at a stream with a little more water in it. The North Fork of the Bouquet River isn't huge, but it does provide some pretty pictures.
The North Fork of the Bouquet River a Little North of the Junction of Rt 73 & Rt 9
Our last stop for photos was at an "Official Scenic Stop" along Rt 8 where it crosses the West Canada Creek. Again, this had a little more water flowing than most of the other streams, but it was obvious that the water levels were very low.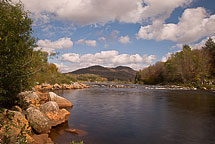 Overall, 2 days & 470 miles of some beautiful Fall scenery.
---
This page is maintained by: vermilye@oswego.edu
Last Update: November 18, 2019