Back to Jon Vermilye's Photo & Travel Page
My Trip Journals:

Oswego page February 2006 - July 2006
Oswego page July 2006 - May 2007
Oswego page July 2007 - February 2008
Oswego page August 2008 - July 2009
Oswego page July 2009 - July 2010

NOTE: The Oswego page was getting a bit large - I have moved the older information & photographs. See above for links to the older pages.
---
Animals & Insects
Birds
Chipmunks
Flowers
Landscape / Scenic
Lighthouses
Oswego
Other Images
State & National Parks
Theatrical Images
Waterfalls

---

Oswego Links
Oswego County's Official Web Page
Oswego County Tourism Home Page
New - Real Property Search Database This is the New SDG system used to check property values, assessments & more in Oswego County.
Oswego City's Official Web Page
State University of New York at Oswego
Old Fulton NY Post Cards - also search for newspaper articles from Oswego County Newspapers (PDF files)
---
Oswego Images:

All photographs Copyright © 1996 - 2010 Jon R. Vermilye

The Oswego Lighthouse

The Oswego lighthouse has quite a history (See "The Lighthouse Digest") I love taking photographs of it because it continually presents a new & different image each time I see it. The changes in sky, the lake and the seasons all provide an infinite variety of backgrounds. More lighthouse photos further down the page
---
Harborfest 2017
It has been a long time since I updated this page. No excuses, other than I've been traveling quite a bit over the last couple of years. I was in Oswego for the 2017 Harborfest, and have a bunch of pages of the festival:
Harborfest 2017
| | | | |
| --- | --- | --- | --- |
| | | | |
| Tarps on the Hillside | My Fireworks Location | Water Ski Show | Fireworks By Grucci |
The 2015 Onondaga Audubon Bird Festival at Derby Hill, Mexico, NY
The Derby Hill Bird Festival was held Saturday, May 9th. More photos on the Festival Page.
Rudy's Opening, March 25, 2015
Well you wouldn't know it by the ice still on the lake or recent temperatures, but it is Spring. Oswego's official sign of Spring is the opening of Rudy's. A few weeks ago you could barely see the building behind the snow banks, but with some payloader work the parking lots are cleared. Not crowded 3 deep as it would be during a warmer opening day, it is still great to stop in for a fish sandwich.
I went back for dinner and it was the usual 3 deep & a 45 minute wait.
A Few Weeks Ago

Still Lots of Ice on the Lake

Both Parking lots are filled

Opening Day

Opening Day

iPhone Photos From the Evening - A Bit More Crowded
The 2014 CNY Great Pumpkin Festival - October 4-5.
The Pumpkin Festival weigh in was on a wet Saturday morning. Watermelons, Tomatos, and, of course, Pumpkins. This year the New York State record for a pumpkin was broken by Karl Haist - 1725.5 pounds! Photos and more information here.
The Oswego Dragon Festival, 2014
Again, it has been a long time since I've updated my Oswego page. My excuse - I've been away on a long 304 day trip around the country. One of the first things happening after I returned is the 3rd Annual Dragon Festival. Boats with a crew of 22 paddle a 200 meter race. Here are a couple of photos of the preliminaries; more at The Third Annual Oswego Dragon Festival pages.
| | | | |
| --- | --- | --- | --- |
| | | | |
| The Banner & a Boat | Finish of the Hero's Race | Victory! | The Coast Guard Winners |
Harborfest, 2013
I have to admit I haven't updated this page in quite awhile - part of the reason is I've been out of town. In any case, Harborfest is here & I'm taking lots of photos of all of it. A link to my Harborfest page.
Sunday, January 20, 2013 - Winter Storm
While there was little snow (at least so far) the wind is putting a bit of a chop on the lake. Some photos from this morning; (More here)
| | | | |
| --- | --- | --- | --- |
| | | | |
| Lake Ontario by Rudys | Waves on the Breakwall | Oswego Lighthouse | Oswego Lighthouse |
More photos at the link above.
More photos at the link above.
It has been awhile since I have updated this page - I've been traveling around the US for the last 4 1/2 months. This year's Pumpkinfest broke records - The largest pumpkin in the 21 year history of the Pumpkin Festival, and even better, A New York & United States record Squash @ 1221.5 lbs!
More photos at the link above.
| | | | |
| --- | --- | --- | --- |
| | | | |
| Pumpkin - Steve & Giada Westcott | Jeremy Robinson's Record Breaking Squash | Not Everything Comes In On a Trailer | Pumpkin - Quinn Werner -Oswego Pumpkinfest All Time Record |
Saturday, September 29, 2012 - Fort Ontario Reenactment
During the shooting at the Pumpkinfest weigh in I could hear cannons going off at the fort. After the weigh in I drove over to the fort & walked through what looked to be a Cival War reenactment. While they were done firing cannons, I did get a few photos:
More photos at the link above.
Sunday, March 6, 2011 - Spring?
Well we did have two days of warm, sunny weather, but the only sign of spring here in Oswego is the flooding of Lakeshore Road. Even Rudys isn't open yet!
Friday, November 25th, 2010 - Some new photos of the Oswego Lighthouse:
Well, the waves are still crashing today (the 27th) but rather than more of the lighthouse, here is a wave created rainbow: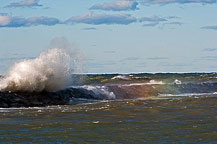 Lots of things happening this weekend & next. The Salmon River Fish Hatchery held an Open House on Saturday, September 25th. More information & photos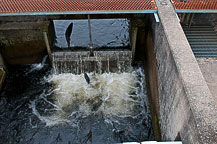 I stopped on my way back from the fish hatchery and Salmon River Falls at Mexico Point Park. I have passed the sign for the park many times on 104B, but never drove to the end of the road. It was well worth the stop. The park itself is beautiful, and an added attraction is Casey's Cottage.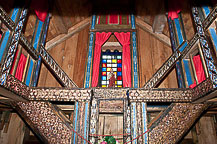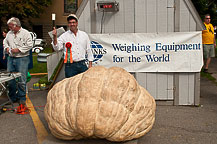 ---
---
I have not updated this page in quite awhile, but now is the time! The Festival of Sail is coming to Oswego June 25 - June 27. This is your chance to tour a Tall Ship, go for a sail on Lake Ontario in the Lynx, or just enjoy a weekend at the festival. I have more information & more photos of the festival at my Festival of Sail Thursday page.
| | | | |
| --- | --- | --- | --- |
| | | | |
| The Pride of Baltimore II | The Unicorn | The LT-5 | The Lynx |
| | | | |
| --- | --- | --- | --- |
| | | | |
| Visiting the Lynx | Waiting To Board the Lynx | Preparing the Lynx For Sailing | The Lynx Leaves Oswego Harbor |
---
Oswego page February 2006 - July 2006
Oswego page July 2006 - May 2007
Oswego page July 2007 - February 2008
Oswego page August 2008 - July 2009
Oswego page July 2009 - July 2010
This page is maintained by: vermilye@oswego.edu
Last Update: July 30, 2017