2015 - 2016 Southwest Trip
Day 171
2011 Trip across the US
2012 Trip across the US
2014 Trip across the US
2015 Trip to Alaska
Other Trips

Friday, April 1, 2016, Chickasaw State Park, Henderson, TN, 139 Miles, 6,423.7 Miles for the Trip
Last night a rare occurrence - there were more fiberglass trailers in the park than stick built. A Bigfoot 24 pulled in after my post, making 3 of us compared to only 2 stick built trailers.
Around 9:00AM I packed up, said goodbye to the tent ladies next door (as well as the owner of the Silver Bullet) then headed out. Getting through Memphis wasn't too bad, although much of it was in I40, a busy road at 9:30AM. My GPS led me astray; there was a new overpass that was a left off to continue on I40, and the GPS had me in the right lane where the old exit was located. By the time I realized the problem there wasn't enough time to cross three lanes in the heavy traffic. it only added a couple of minutes while I got turned around.
Crossed the Mississippi into Tennessee. The radio stations now have the proper first letter (at least for an easterner) a "W" instead of a "K". Other than I 40 through the city, most of today's drive was on US 64, a mix of 2 & 4 lanes running through a number of small towns along the way - my favorite type of driving.
I'm in site 33 at the Chickasaw State Park, a water & electric site for $18.73 per night with a $5.00 per night senior discount. Far more rustic than Village Creek. I picked my site using the on line campground map. It doesn't show relief, and most of the campground is built into the side of a hill. I'm about half way up in a site that I doubt any larger trailer could back into. It is long enough, but there is a car eating tree just across the road (as well as many on the site) that makes backing in a bit difficult. While the description said a slight slope, it didn't say it would be in 2 directions. I'm barely level at the full height of the Anderson leveler, and had to add a couple of leggo blocks under the tongue jack to level it front to back. I also have a small stream running under the RAV4 (and a larger one next door). Lots of shade (on a day that I'd love to have more sun). I definitely found some better sites walking around the campground, but you couldn't tell without seeing them in person. In any case, I'm settled in for the next 3 nights.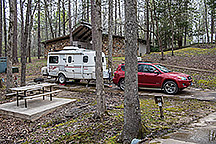 Site 33, Chickasaw State Park, TN
I do have good 4G LTE Verizon coverage as well s a usable AT&T signal and 2 NPR stations - one News & one Music, so things are good in the communications area.
Dinner was a grilled chicken sandwich, beans & a peach fruit cup.
Until next time -
---
This page is maintained by: vermilye@oswego.edu
Last Update: April 2, 2016