2015 - 2016 Southwest Trip
Day 174
2011 Trip across the US
2012 Trip across the US
2014 Trip across the US
2015 Trip to Alaska
Other Trips

Monday, April 4, 2016, David Crockett State Park, Lawrenceburg, TN, 105 Miles, 6,528.7 Miles for the Trip
I took my time getting up & out this morning since I only had around 100 miles to drive. Most of the drive was on US64, a pleasant 2 & mostly 4 lane 55 - 65MPH road. Lots of small towns to give a break from mindless driving.
I had a reservation for site 105 in Campground 2 at David Crockett State Park. For the last couple of Tennessee state parks I stopped in the office entering the park, and since I already paid & had a reservation, they didn't do anything (unless I asked for directions to the campsite). So, this time I drove to the site without stopping. There was no reservation form on the campsite post, but I set up anyway. After setting up I got a bit nervous that there was no reservation form posted (there was one at all the other TN parks) so I decided to check the on line map to be sure I was in the correct campground. The PDF park map on their website shows 2 campground 2's. I called the office & they were very surprised that the map IDed both campgrounds with Campground 2 (I was in the correct one, the other is actually Campground 1). So, I'm in the right place. A nice site not too far from a bathroom with showers. Electric & Water for $18.88 per night with the $5.00 discount for seniors. Tennessee has serious taxes - 5% occupation tax, 7% state tax, 2.75% local tax, and a $5.00 reservation fee. Still, less expensive that area commercial campgrounds, and much more to my liking. I've got some trees for shade (at least they would be if leafed out - it is still a bit early.) No river running through my site like Chickasaw.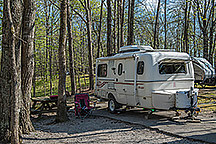 Site 105, David Crockett State Park, TN
I made a run to Walmart to pick up some Neosporin. I seems that at Chickasaw State Park I ran into one of my arch enemies - chiggers. I assume that is what has been chewing on me since the bites remind me of the chigger bites I got in Florida. I also found a solution for storing my griddle for the camp stove. I found some large handbags in the woman's accessories section that were large enough, padded, and cheap at $6.99.
Dinner was a couple of Chicken & Cheese burritos & Mexicali Rose Instant Homestyle Refried Beans. The refried beans were very good. Of course since I bought them much further west than here, I doubt I'll find them again.
Until next time -
---
This page is maintained by: vermilye@oswego.edu
Last Update: April 5, 2016