Nantucket - Wednesday, August 13th, 2008
Back to Jon Vermilye's Photo Page
Other Trips:
---
Tuesday, August 12th
Thursday, August 14th

---
It looks like it will be a nice day, and we have predictions for clouds & rain for tomorrow, and since Don & Anne are going home friday, it looks like a good day for the beach. We are going to try to get to Hummock Pond Beach. It was my mother's favorite as well as Carol's. It is a little harder to get to - last year we tried from Madaket & did find a beach, but it wasn't Hummock Pond. This year we will go the old way - along Bartlett Farm Road. That was the way we got there with my father's van, but I'm not sure the mini van has the clearance. We will find out!
Well, the van made it. We didn't have any trouble following the road & only scraped bottom a couple of times. We are actually at a part of Hummock Pond called Clark's Cove. Not too crowded, although we are a little early - we have to get back home in time to make spaghetti.
| | | | |
| --- | --- | --- | --- |
| | | | |
| Parking at Hummock Pond | A Near Empty Beach | A Near Empty Beach | Us! |
Went for a walk along the pond & found this seagull. Not sure why it didn't fly away along with the rest of them, but it stayed for a picture: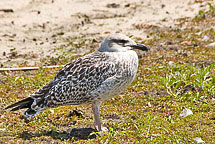 After staying long enough for all of us to get a bit of sunburn, it was back to home to make dinner. I also made a blueberry pie for desert.
Till tomorrow!
Tuesday, August 12th
Thursday, August 14th