Nantucket - Sunday August 1, 2010
Back to Jon Vermilye's Photo Page
Other Trips:
Nantucket Trip August, 2005
Nantucket Trip August, 2007
Nantucket Trip August, 2008
---
I took my camera for a walk rather than jog this morning. I love the light at one of the Land Bank sites along Millbrook Road. There is quite a difference between 6:00AM & 8:00AM. I also walked out the an osprey nest at the other side of the Land Bank area. The other day (when I didn't have my camera, of course) one of the ospreys was flying around making for great photos against the sky. Today he/she just stood there!
| | | | |
| --- | --- | --- | --- |
| | | | |
| 6:31AM | 8:00AM | Another View | Osprey |
A few years ago they started a house manufactured in panels across the road from David's - some photos of it building built are on this 2008 page. Although the shell was designed to go up in a day, this installation took a bit longer. It was planned to be finished by Thanksgiving of 2008, but it still wasn't finished by Thanksgiving 2009. It is done now (so is the factory that built the the house in Preble, NY - they went out of business).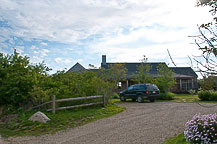 The Panel Built House
Time for a dump run!
Wow, the dump was crowded! We went last Sunday & it was busier than during the week, but today was a madhouse. You had to wait in line to park, and the Take it or Leave it was so full of people you could barely get inside. Still, Don & I did get inside & I picked up 3 new old books. I do wish we had one of these in Oswego.
We are back at the house waiting for Jan & her crew to show up. David is smoking a brisket for dinner. Anne made potato salad & an ambrosia salad to go with it. We will go out & get some corn later.
It's later, Jan & all haven't showed yet; they told us they are on the island, but they went to the beach first. In any case, we have picked up the corn at Bartlett's, made the run to Stop & Shop and are back at the house. Time to do more reading.
Jan and all, Dave's friends and all are here & the brisket is done and it is time to eat:
A good time had by all!
Jan & her crew went back to the hostel for the night - they will stop over in the morning.
Back to Jon Vermilye's Photo Page
Other Trips:

Nantucket Trip August, 2005
Nantucket Trip August, 2007
Nantucket Trip August, 2008