The Niagara Wine Escape - September 2015
Back to the Home Page
All photographs Copyright © 2015 Jon R. Vermilye

Other Pages:
Animals & Insects
Birds
Chipmunks
Flowers
Landscapes / Scenic
Lighthouses
New England & Nantucket
Oswego
Other Images
State & National Parks
Theatrical Images
Waterfalls
RV Related Pages
Fiberglass Trailer Information
Niagara Wine Escape, 2010
Niagara Wine Escape, 2011
Niagara Wine Escape, 2012
Niagara Wine Escape, 2013
Niagara Wine Escape, 2014
Niagara Wine Escape, 2016
---
Like last year, I got a head start & arrived at the Riverside Park Campground & Motel on Thursday. I took NY 104 all the way to Niagara Falls, NY, and crossed at Rainbow Falls. The procedure for crossing with an RV has changed since the last time I crossed here - you now pull up to a stop outside the main building, go inside with your passport, answer the usual questions, then go back to your vehicle & wait for them to bring back your passport. It only took a few minutes, and was easier than waiting in line for the usual border check.
Since I wasn't planning to attend this year (I was going to stay in the West after my trip to Alaska, but came stomach problems had me coming back to Oswego early - with a change in medication, I'm now doing much better) so with a late registration, I'm on the outskirts of the group in Site 85. A water & 30 amp electric site with a concrete pad for $36.63 per night with fairly slow WiFi. I'll try to see if my MiFi can pick up a Verizon tower across the river in the US.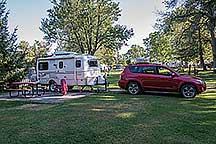 Site 85, Riverside Park Campground
There are some other early arrivals -
Friday, September 18, another beautiful day! I decided to bake one of my pies this evening rather than trying to do two tomorrow. Unfortunately, by the time I got around to making the rounds of the trailers, it was pretty dark so the images are not that great, but here are today's:
Saturday started out with a bit of light rain, then cloudy, with rain off & on. It is now 1:00 & a bit windy, but the rain is holding off, at least for awhile. It would be great if the rain would hold off until after the pot luck dinner, however I checked the radar image on my iPad, and it doesn't look good! I baked my second blueberry pie, showed the trailer to a number of folks, and made a round of picture taking:
We did get a bit of rain, but the weather was on our side. Heavy downpours on both sides of us, but here at the campground only a few sprinkles. The pot luck & door prizes went off well, as usual. Thanks to Alf & Marianne, Reace & Tammy, and all who donated prizes & helped organize the the rally. While this is the "official" end of the rally, about 40 of us are heading to Betty's for brunch tomorrow morning.
| | | | |
| --- | --- | --- | --- |
| | | | |
| | | | |
| | | | |
| | | | |
| | | | |
| | | | |
Sunday morning I added a phot of our brunch at Betty's. A great time had by all for the entire weekend.
---