2015 Trip to Alaska & More
Day 49 -
2011 Trip across the US
2012 Trip across the US
2014 Trip across the US
Other Trips
Sunday, July 26, 2015, Blue Cedar RV Park, Prince George, BC - 180.2 Miles Today, 7147 For the Trip
I'm starting off today with a recommendation of yesterday's campground, the Shady Rest RV Park in Houston. While the sites are gravel, it is one of the nicest commercial parks we have stayed in. Individual bathrooms with showers, a floor mat & shelf for your stuff (including a vase with real flowers on the shelf). I mentioned road & train noise, but you couldn't hear either inside the trailers. A great trading library for books in the laundry, and good, on site internet.
As to today, I can't say the same. The sites are very shallow - we both had to unhook to fit (and to level), and we are a long walk from the bathrooms. Full hookups for $37.00. Lots of road noise, even in the trailer. We are in sites 107 & 108. While we called in a reservation this morning, they didn't write anything down. I'm glad we got here early since the place has filled up.
This is our last evening together. While we are both heading south on CA 97, Don is staying in Prince George hoping to get an oil change at the local Toyota dealer, and I'm heading out early to try to make Chilliwack by Tuesday. No photos today other than the campsite.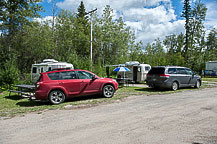 I hope I can post this later. While there are a number of repeaters for the WiFi in the campground, they seem to all be overloaded - I can connect, but they don't assign an IP.
Until tomorrow -
---
This page is maintained by: vermilye@oswego.edu
Last Update: August 30, 2015