2015 Trip to Alaska & More
Day 50 -
2011 Trip across the US
2012 Trip across the US
2014 Trip across the US
Other Trips
Monday, July 27, 2015, Brookside Campsite, Cache Creek, BC - 268.3 Miles Today, 7415.3 For the Trip
Well, I miss my traveling companions. This is the first day in the last 50 that I haven't been looking at the back end of a Scamp while on the road. Since Anne has been the navigator (it is a pain to read a map, look up campgrounds, etc while driving alone) Don & Anne have always been in the lead. I also miss the dinner conversation, and everything else about my three travel companions. Still, Don has to go back to work, and I promised myself I wouldn't shovel my roof in Oswego this winter, so here I am.
A fairly long haul today, at least compared to our recent drives. I wanted to be in an easy half day drive to Escape Travel Industries in Chilliwack sine I am stopping at the factory to get some parts for the trailer.
I'm in site 22 of the Brookside Campsite in Cache Creek, BC. A very nice campground with full hookups for $35.00. Free showers & working WiFi (Well, working at 1:00PM, however now at 6:45, it is too slow to connect to my site. I'll try later). What more can you ask for? The site picture is the only photo for the day.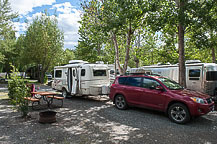 Dinner was a couple of brots (I'm trying to finish off the rolls before they get stale), a cup of canned peaches, and steamed snap peas.
Until tomorrow -
---
This page is maintained by: vermilye@oswego.edu
Last Update: July 29, 2015