2015 Trip to Alaska & More
Day 51 -
2011 Trip across the US
2012 Trip across the US
2014 Trip across the US
Other Trips
Tuesday, July 28, 2015, Silver Lake County Park, Maple Falls, WA - 183.7 Miles Today, 7599 For the Trip
A very busy day. I got an early start, and pulled into Escape Trailer Industries around 11:45. The drive down CA 1 was beautiful (that's Canada 1, not California 1, which is also beautiful). Ray checked out the bad taillight & assigned a crew to replacing it, starting after lunch. I talked to a couple of couples looking at trailers, trying to decide which one they wanted & what options. I did the same, trying to decide what I would buy if I was shopping now & had a tow vehicle that would tow any of them. My decision? A 19 with the table & bed reversed. I don't know if Escape is still doing that - I know they built a few in the past. I'd rather live with a smaller bed required by the switch (the same size as the one I currently have in the 17B). The standard bed in the 19 is a queen, but moving it to the front would only have enough space for a 3/4 size bed, plenty wide enough for me. It looks like the larger table they use in the 21 & 5.0TA would fit in a reversed 19. Of course I already have the 17B, and am very pleased with it. The only reason for considering a 19 is a full size table AND a permanent bed. That would let 4 people sit at the table during bad weather. We can do 3 in the 17, but 4 doesn't work; in fact, we fit 4 better in the Style 4 16' Scamp.
It took about 1 1/2 hours to replace the taillight. You really have to admire a company like Escape. My trailer is 4 1/2 years old, and they replaced the LED taillight for free, including free labor. They also gave me all the parts (except the cables, which haven't arrived yet, and will be mailed to me when I stop somewhere long enough to get them) for the tie downs for both my solar panels even though they only installed one of them. It isn't because they have a lot of time on their hands - they are building trailers as fast at the plant will let them & they have sold every trailer they can manufacturer for almost a year ahead. If you are considering a fiberglass trailer, I highly recommend Escape Trailer Industries! Great service and an excellent product. They do have expansion plans underway that will cut down the lead time on purchasing a trailer.
After leaving Escape, I crossed into the US at Sumas. A fairly easy crossing; lots of questions about Alaska, and how long it took to get through Canada on the way home, but no problems with food or beer.
I decided to spend a couple of days relaxing at a quiet campground. I found the Silver Lake County Park near Maple Falls just off WA 542 (the Mt Baker Highway). There are three campgrounds in the park, 2 that have water & electric hookups at some sites. I'm in site 46 in the Maple Creek Campground for 2 days, 30 amp electric & water for $30.00 per night.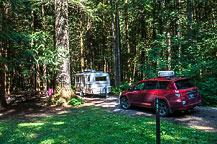 My last attempt at seeing Artist Point at the end of the Mt Baker Highway ended in failure - it was so fogged in that I couldn't see much past the hood of the RAV4, so I want to try again. Maple Falls is just 35 miles from the end of the highway, so I have a good start. The Mt Baker Ski Area is just before Artist Point, so I put it in my GPS. I'm not sure why, but it insisted I go west on 542 rather than east. I gave up on the GPS & will just follow the road in the morning.
Dinner was a couple of Amy's Burritos; a cheese & a Southwest. I didn't keep track of which was which, but I really liked one of them & thought the other was just OK. I'll have to try one of each again to decide which I like!
Whie I am back in the US so I can use my Verizon Hotspot, there is no cell service at my site (either AT&T or Verizon) so I will have to wait until I am on the road before I can post these. I'll try at Maple Falls in the morning.
Well, no luck at Maple Falls, but I'm posting from close to the end of the Mt Baker Highway. I guess they have cell towers for the skiers at the Mt Baker Ski Area. In any case, I have both AT&T & Verizon service.
Until the next internet connection -
---
This page is maintained by: vermilye@oswego.edu
Last Update: July 29, 2015