2015 Trip to Alaska & More
Day 58 -
2011 Trip across the US
2012 Trip across the US
2014 Trip across the US
Other Trips
Tuesday, August 4, 2015, Mountain View RV Park, Baker City, OR - 277.6 Miles Today, 8436.9 For the Trip
I had a couple of surprises this morning - on the way to the bathrooms I saw an old bug eyed Sprite. Reminded me of the days when I drove an 1957 MG Midget (with a Sprite engine). The other surprise was a vehicle with Hawaiian license plates - must have been a tough drive! That would have been a special find back when we played the license plate game. We used to do it on trips, and for a number of years, did it while on the island of Nantucket. Alaska was always tough, but Hawaii was tougher. We did find Alaska plates for a couple of years at the Coast Guard housing on Nantucket, and one year there was a Hawaiian plate on a car on a boat in the harbor (cars aren't all that unusual in Nantucket harbor - some of the boats have their own helicopter.
Back to the trip - I spent the entire day on I 84. I stopped for the afternoon at Baker City in southeast Oregon. When I pulled into my site there was an Escape 19 across the way. I talked with the owners; they are here for a bit longer than planned. Their Highlander transmission failed so they are stuck here until it is repaired (under warranty). A sad way to start out - they have only had the trailer for a week. I'm in site 101, a full hookup site with cable for 32.08 with a Good Sam discount. By the way, the campground has a rather unique way of keeping unaccompanied children out of the bathrooms. The keypad & door handle is 5'6" above the ground. As a former building coordinator that had to enforce building safety rules, I'm surprised they can do it - if a child managed to enter the bathroom (say by following an adult) and managed to stay in the bathroom until all the adults left, there is no way he could open the door since the inside handle is also 5'6" above the floor...
While relaxing in my chair a Casita pulled up 2 sites from me. A bit later another one pulled in to the site next door. Even more strange, we all had red tow vehicles. I had to get a photo.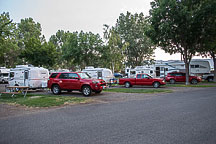 Other than a walk around the campground, I didn't do much other than talk with the neighbors, read, and relax. Dinner was a grilled chicken patty sandwich, the rest of the snap peas & a cup of peaches.
Until Next Time -
---
This page is maintained by: vermilye@oswego.edu
Last Update: August 5, 2015