2015 Trip to Alaska & More
Day 67 -
2011 Trip across the US
2012 Trip across the US
2014 Trip across the US
Other Trips
Thursday, August 13, 2015, Sleeping Bear RV Park, Lander, WY - 153.6 Miles Today, 9131 For the Trip
A pretty drive along US 26 & US 287, mostly 2 lane, 65MPH roads. Sure did have different $ for gas along the way. $3.39 a gallon just outside the park, $2.99 at Dubois, and $2.77 in Lander, all within 150 miles along the same road.
I stopped for the night (actually barely afternoon) at the Sleeping Bear RV Park in Lander, WY, my second choice. While the Pioneer RV park a bit further along US 287 had better reviews, it is closed. Sleeping Bear is OK, although basically a parking lot with hookups. The do have very nice bathrooms - all in one units with showers, including one that has two showers in the same room. Full hookups for $38.30 with a Good Sam discount.
It is very hot - my outside thermometer reads 98°F (although that is under the propane cover which is in the sun). A light wind makes it possible to sit outside, as long as you can find shade. My site (GB5) has a few small trees, but nothing that makes shade. I did a couple of loads of laundry - I was down to two pairs of underwear (I know, too much information!) The only photo for the day is the site photo.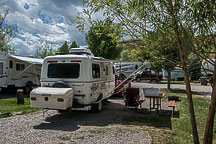 It was too hot to cook, so I made a run to Safeway & picked up a fried chicken 8 pack. For $6.99, and at least two meals, it is hard to beat. Snap peas & an ice cream sandwich rounded out the meal. After dinner I'm heading for the showers - It will be nice after 4 days of dry camping...
Until Next Time -
---
This page is maintained by: vermilye@oswego.edu
Last Update: August 14, 2015