2015 Trip to Alaska & More
Day 68 -
2011 Trip across the US
2012 Trip across the US
2014 Trip across the US
Other Trips
Friday, August 14, 2015, WYO Campground, Burns, WY - 275.2 Miles Today, 9406.2 For the Trip
Anyone looking at a map & my current location will notice I'm east of my expected next stops. While I hate to say it, I'm calling the trip to the West part of this adventure to a close. I've mentioned a couple of times my stomach problems, mostly acid reflux. I'm on a couple of prescription medications that helped in the past, but over the last month it has bothered me to the point where the trip isn't fun any more. I'm waking up in the middle of the night, reduced to eating unspiced chicken, etc. I've been skipping hikes, taking photographs, and many of the other things that are the reasons I travel, so, I'm heading back to Oswego. I'll keep up the blog of my travels, but I have to admit they probably won't be all that interesting - just burning the miles along interstate 80.
The trip to Alaska was wonderful, and I hope to get my stomach under control with my local doctor, then maybe head to Florida for the winter. I was planning on doing that next year after spending this winter in Arizona, but we will see.
Tonight I'm in Burns, WY at the WYO Campground. It is just off I80 (lots of traffic noise) in site B5, a full hookup site for $34.65. Very hot - in the 90's, but a strong breeze, almost too much for the awning. I spent most of the afternoon sitting outside in the shade of the awning reading.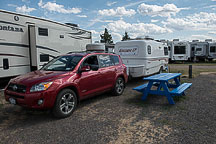 Dinner was left over chicken & snap peas.
Until Next Time -
---
This page is maintained by: vermilye@oswego.edu
Last Update: August 15, 2015