2015 Trip to Alaska & More
Day 72 -
2011 Trip across the US
2012 Trip across the US
2014 Trip across the US
Other Trips
Tuesday, August 18, 2015, Huron River Valley Resort, Huron, OH - 300.2 Miles Today, 10,596.4 For the Trip
This morning proved why I prefer to drive into Canada and go over the Great Lakes rather than through Chicago. My first 4 miles out of Joliet on I80 took over 2 hours, even though I waited until almost 9:00 to leave the campground. I assume there was an accident somewhere up ahead, but we never saw it. Eventually, the traffic picked up to normal. The rest of the trip was OK, however another advantage of going around the top of the lakes is to avoid tolls. I generally hate toll roads. I figure my (or someone's) taxes paid for the road to be built; why should I have to pay again? And, I80 through IL, IN, and OH is expensive. With 3 axles, I paid $31.00 to get from Illinois to Exit 118 in Ohio. I'm going to turn north on I 90 tomorrow, and rather than sticking to the NY Thruway & its tolls, I'm going to probably cross the state on NY 104. There are some nice state parks along the lake that I might be able to stop at since I'm still 430 miles from home, and don't plan to do it all tomorrow.
The Huron River Valley Resort isn't, but it is a nice campground. Individual showers with push button valves (and adequate hot water) that felt great. I'm in site 70, an overnight site (most of the campground is permanent summer residents), a electric & water site for $34.20 with the Good Sam discount. No traffic noise, but there is a train that goes by, tooting its horn.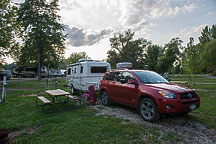 I crossed into the Eastern Time Zone and since I'm on the western edge, it is still very daylight at 8:00PM. Of course, not like Alaska where it was still daylight at 11:00PM, but the light fooled me - I didn't start dinner until 6:30 or so.
Dinner was an Amy's Burrito & the last of the snap peas.
Until Next Time -
---
This page is maintained by: vermilye@oswego.edu
Last Update: August 19, 2015