2015 Trip to Alaska & More
Day 71 -
2011 Trip across the US
2012 Trip across the US
2014 Trip across the US
Other Trips
Monday, August 17, 2015, Hollywood Casino Campground, Joliet, IL - 308.7 Miles Today, 10,296.2 For the Trip
While the weather started out with heavy rain making driving on I80 a pain, it pretty much cleared up as I drove east, with short bouts of light rain. I wanted to get my usual 300 miles or so today, and stopped at the Hollywood Casino Campground. I'm in a 80' long pull through, far more than I needed, but they told me over the phone that I probably would not be able to fit in their smaller back in sites & leave the RAV4 connected. Of course, after being assigned the site, I discovered I'd have fit fine in the back ins, cheaper & closer to the showers. Anyhow, a electric & water site for $44.55, I think.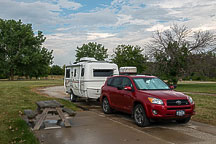 The reason I think is I had to check my credit card transactions because for some reason Capital One decided to put a fraud hold on my card. The only thing different I did today from the rest of the trip was to make two phone orders for stuff (shipped to the home address registered on the card) and am staying in a Casino campground. In any case, I was able to clear the hold on the internet by telling them they were legitimate charges. The "I think" for the campground $ is they had a larger charge on my card that they tell me will be "adjusted" when I leave. Something about the additional $ to cover incidental charges at the hotel which uses the same billing system.
I went for a walk around the campground (and to check out the bathrooms at the other end of the place) and while there was a very light rain falling, I watched (and heard one second later) a lightning ground strike. Very exciting!
That was about all the excitement for the day. Dinner was a chicken pot pie cooked in the toaster oven outside on the picnic table. That way the air conditioner doesn't have to fight the oven.
I may not be able to post this tonight - while I have a cell connection, I don't seem to have an internet connection from Verizon. I'll try again later or in the morning.
Until Next Time -
---
This page is maintained by: vermilye@oswego.edu
Last Update: August 18, 2015