2017 Trip to New Hampshire
Index & Day 1
2011 Trip across the US
2012 Trip across the US
2014 Trip across the US
2015 Trip to Alaska
2015-16 Southwest Trip
2016 New England Trip
2016-17 Southwest Trip
Index:
Day 2
Day 3
Day 4
Day 5
Day 6
Day 7
Wednesday, May 10, 2017, Broken Wheel Campground, Petersburg, NY, 208 miles, 208 Miles For the Trip
This trip will be to the "Spring Fling New England Rally" in Chocorua, NH, May 11 - 14. I will be meeting the Guidos at the Broken Wheel Campground in Petersburg, NY on the 10th & arriving at the Chocorua KOA on the 11th.
I got a call from Anne & they don't expect to get to the Broken Wheel until late, so I paid for & sent them directions to the site. We are in water & electric sites for $32.00 per night. The sites are grass, almost level (I had to raise one side be an inch & run up the hitch jack a couple of inches), but could leave the truck hitched.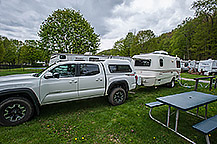 Site 26
Bathrooms are not too far away, but I don't think showers are in order - no heat & it is barely into the 50's at 3:00. After setting up I walked around the campground. Most of the sites are permanent trailers, and only a few owners escaping Florida's heat are here. A pretty location.
Dinner will depend on whether Don & Anne arrive by dinner time. If not, I'll microwave an Amy's Thai Pad Thai dinner. I just got a text from Anne that they expect to be here at 6:00, so I'll wait for them.
Until Next Time-
This page is maintained by: vermilye@oswego.edu
Last Update: May 22, 2017
---