2016 - 2017 Trip to the Southwest
Getting Ready
2011 Trip across the US
2012 Trip across the US
2014 Trip across the US
2015 Trip to Alaska
2015-16 Southwest Trip
2016 New England Trip
2016 - 17 Southwest Trip
2017 - 18 Trip to Pick Up a New Escape 21 Trailer & More
2018 - 19 Trip to Winnipeg & the Albuquerque Balloon Fiesta
2019 - 20 Trip to the Southwest
Skip the index to Page 1 of the trip below
Index
Day 1, Monday October 31, 2016 - Jonestown KOA, Jonestown, PA
Day 2, Tuesday November 1, 2016 - Walnut Hills KOA, Staunton, VA
Day 3, Wednesday November 2, 2016 - Hungry Mother State Park, Marion, , VA
Day 4, Thursday November 3, 2016 - Hungry Mother State Park, Marion, VA, Day 2
Day 5, Friday November 4, 2016 - Hungry Mother State Park, Marion, VA, Day 3
Day 6, Saturday, November 5, 2016 - Hungry Mother State Park, Marion, VA, Day 4
Day 7, Sunday, November 6, 2016 - Townsend/Great Smokies KOA, Townsend, TN
Day 8, Monday, November 7, 2016 - Monte Sano State Park, AL
Day 9, Tuesday, November 8, 2016 - Monte Sano State Park, AL, Day 2
Day 10, Wednesday, November 9, 2016 - Twiltley Branch COE Campground, Collinsville, MS
Day 11, Thursday, November 10, 2016, Natchez State Park, Natchez, MS
Day 12, Friday, November 11, 2016, Natchez State Park, Natchez, MS, Day 2
Day 13, Saturday, November 12, 2016, Natchez State Park, Natchez, MS, Day 3
Day 14, Sunday, November 13, 2016, South Toledo Bend State Park, LA
Day 15, Monday, November 14, 2016, South Toledo Bend State Park, LA, Day 2
Day 16, Tuesday, November 15, 2016, Double Lake Forest Service Campground, TX
Day 17, Wednesday, November 16, 2016, Double Lake Forest Service Campground, TX, Day 2
Day 18, Thursday, November 17, 2016, Brazos Bend State Park, Needville, TX
Day 19, Friday, November 18, 2016, Stonebridge RV Park, Sweeny, TX
Day 20, Saturday, November 19, 2016, Stonebridge RV Park, Sweeny, TX, Day 2
Day 21, Sunday, November 20, 2016, Matagorda Bay Nature Park, TX
Day 22, Monday, November 21, 2016, Matagorda Bay Nature Park, TX, Day 2
Day 23, Tuesday, November 22, 2016, Matagorda Bay Nature Park, TX, Day 3
Day 24, Wednesday, November 23, 2016, Matagorda Bay Nature Park, TX, Day 4
Day 25, Thursday, November 24, 2016, Matagorda Bay Nature Park, TX, Day 5
Day 26, Friday, November 25, 2016, Matagorda Bay Nature Park, TX, Day 6
Day 27, Saturday, November 26, 2016, Matagorda Bay Nature Park, TX, Day 7
Day 28, Sunday, November 27, 2016, Matagorda Bay Nature Park, TX, Day 8
Day 29, Monday, November 28, 2016, Matagorda Bay Nature Park, TX, Day 9
Day 30, Tuesday, November 29, 2016, Matagorda Bay Nature Park, TX, Day 10
Day 31, Wednesday, November 30, 2016, Matagorda Bay Nature Park, TX, Day 11
Day 32, Thursday, December 1, 2016, Matagorda Bay Nature Park, TX, Day 12
Day 33, Friday, December1 2, 2016, Matagorda Bay Nature Park, TX, Day 13
Day 34, Saturday, December 3, 2016, Matagorda Bay Nature Park, TX, Day 14
Day 35, Sunday, December 4, 2016, Choke Canyon State Park, Calliham, TX
Day 36, Monday, December 5, 2016, Lonesome Dove RV Ranch, Del Rio, TX
Day 37, Tuesday, December 6, 2016, Rio Grande Village, Big Bend National Park, TX
Day 38, Wednesday, December 7, 2016, Rio Grande Village, Big Bend National Park, Day 2, TX
Day 39, Thursday, December 8, 2016, Cottonwood Campground, Big Bend National Park, TX
Day 40, Friday, December 9, 2016, Cottonwood Campground, Big Bend National Park, TX, Day 2
Day 41, Saturday, December 10, 2016, Cottonwood Campground, Big Bend National Park, TX, Day 3
Day 42, Sunday, December 11, 2016, Davis Mountain State Park, TX
Day 43, Monday, December 12, 2016, Western Sky's RV Park, Vado, NM
Day 44, Tuesday, December 13, 2016, City of Rocks State Park, NM
Day 45, Wednesday, December 14, 2016, Picacho Peak State Park, Picacho, AZ
Day 46, Thursday, December 15, 2016, Lost Dutchman State Park, Apache Junction, AZ
Day 47, Friday, December 16, 2016, Lost Dutchman State Park, Apache Junction, AZ, Day 2
Day 48, Saturday, December 17, 2016, Lost Dutchman State Park, Apache Junction, AZ, Day 3
Day 49, Sunday, December 18, 2016, La Posa West, Quartzsite, AZ
Day 50, Monday, December 19, 2016, La Posa West, Quartzsite, AZ, Day 2
Day 51, Tuesday, December 20, 2016, La Posa West, Quartzsite, AZ, Day 3
Day 52, Wednesday, December 21, 2016, La Posa West, Quartzsite, AZ, Day 4
Day 53, Thursday, December 22, 2016, La Posa West, Quartzsite, AZ, Day 5
Day 54, Friday, December 23, 2016, La Posa West, Quartzsite, AZ, Day 6
Day 55, Saturday, December 24, 2016, La Posa West, Quartzsite, AZ, Day 7
Day 56, Sunday, December 25, 2016, La Posa West, Quartzsite, AZ, Day 8
Day 57, Monday, December 26, 2016, La Posa West, Quartzsite, AZ, Day 9
Day 58, Tuesday, December 27, 2016, La Posa West, Quartzsite, AZ, Day 10
Day 59, Wednesday, December 28, 2016, La Posa West, Quartzsite, AZ, Day 11
Day 60, Thursday, December 29, 2016, La Posa West, Quartzsite, AZ, Day 12
Day 61, Friday, December 30, 2016, La Posa West, Quartzsite, AZ, Day 13
Day 62, Saturday, December 31, 2016, Imperial Dam, CA
Day 63, Sunday, January 1, 2017, Imperial Dam, CA, Day 2
Day 64, Monday, January 2, 2017, Imperial Dam, CA, Day 3
Day 65, Tuesday, January 3, 2017, Imperial Dam, CA, Day 4
Day 66, Wednesday, January 4, 2017, Imperial Dam, CA, Day 5
Day 67, Thursday, January 5, 2017, Imperial Dam, CA, Day 6
Day 68, Friday, January 6, 2017, Imperial Dam, CA, Day 7
Day 69, Saturday, January 7, 2017, Imperial Dam, CA, Day 8
Day 70, Sunday, January 8, 2017, Imperial Dam, CA, Day 9
Day 71, Monday, January 9, 2017, La Posa West, Quartzsite AZ, Day 14
Day 72, Tuesday, January 10, 2017, La Posa West, Quartzsite AZ, Day 15
Day 73, Wednesday, January 11, 2017, La Posa West, Quartzsite AZ, Day 16
Day 74, Thursday, January 12, 2017, La Posa West, Quartzsite AZ, Day 17
Day 75, Friday, January 13, 2017, La Posa West, Quartzsite AZ, Day 18
Day 76, Saturday, January 14, 2017, La Posa West, Quartzsite AZ, Day 19
Day 77, Sunday, January 15, 2017, La Posa West, Quartzsite AZ, Day 20
Day 78, Monday, January 16, 2017, La Posa West, Quartzsite AZ, Day 21
Day 79, Tuesday, January 17, 2017, La Posa West, Quartzsite AZ, Day 22
Day 80, Wednesday, January 18, 2017, La Posa West, Quartzsite AZ, Day 23
Day 81, Thursday, January 19, 2017, La Posa West, Quartzsite AZ, Day 24
Day 82, Friday, January 20, 2017, La Posa West, Quartzsite AZ, Day 25
Day 83, Saturday, January 21, 2017, La Posa West, Quartzsite AZ, Day 26
Day 84, Sunday, January 22, 2017, La Posa West, Quartzsite AZ, Day 27
Day 85, Monday, January 23, 2017, La Posa West, Quartzsite AZ, Day 28
Day 86,Tuesday, January 24, 2017, La Posa West, Quartzsite AZ, Day 29
Day 87, Wednesday, January 25, 2017, La Posa West, Quartzsite AZ, Day 30
Day 88, Thursday, January 26, 2017, La Posa West, Quartzsite AZ, Day 31
Day 89, Friday, January 27, 2017, La Posa West, Quartzsite AZ, Day 32
Day 90, Saturday, January 28, 2017, La Posa West, Quartzsite AZ, Day 33
Day 91, Sunday, January 29, 2017, La Posa West, Quartzsite AZ, Day 34
Day 92, Monday, January 30, 2017, La Posa West, Quartzsite AZ, Day 35
Day 93, Tuesday, January 31, 2017, La Posa West, Quartzsite AZ, Day 36
Day 94, Wednesday, February 1, 2017, Dome Rock, Quartzsite, AZ, Day 1
Day 95, Thursday, February 2, 2017, Dome Rock, Quartzsite, AZ, Day 2
Day 96, Friday, February 3, 2017, Dome Rock, Quartzsite, AZ, Day 3
Day 97, Saturday, February 4, 2017, Dome Rock, Quartzsite, AZ, Day 4
Day 98, Sunday, February 5, 2017, Dome Rock, Quartzsite, AZ, Day 5
Day 99, Monday, February 6, 2017, Dome Rock, Quartzsite, AZ, Day 6
Day 100, Tuesday, February 7, 2017, Dome Rock, Quartzsite, AZ, Day 7
Day 101, Wednesday, February 8, 2017, Dome Rock, Quartzsite, AZ, Day 8
Day 102, Thursday, February 9, 2017, Dome Rock, Quartzsite, AZ, Day 9
Day 103, Friday, February 10, 2017, Dome Rock, Quartzsite, AZ, Day 10
Day 104, Saturday, February 11, 2017, Dome Rock, Quartzsite, AZ, Day 11
Day 105, Sunday, February 12, 2017, Dome Rock, Quartzsite, AZ, Day 12
Day 106, Monday, February 13, 2017, Anza Borrego Desert State Park, CA
Day 107, Tuesday, February 14, 2017, Anza Borrego Desert State Park, CA, Day 2
Day 108, Wednesday, February 15, 2017, Anza Borrego Desert State Park, CA, Day 3
Day 109, Thursday, February 16, 2017, Jumbo Rocks Campground, Joshua Tree National Park, CA
Day 110, Friday, February 17, 2017, Jumbo Rocks Campground, Joshua Tree National Park, CA, Day 2
Day 111, Saturday, February 18, 2017, Jumbo Rocks Campground, Joshua Tree National Park, CA, Day 3
Day 112, Sunday, February 19, 2017, Jumbo Rocks Campground, Joshua Tree National Park, CA, Day 4
Day 113, Monday, February 20, 2017, Jumbo Rocks Campground, Joshua Tree National Park, CA, Day 5
Day 114, Tuesday, February 21, 2017, Calico Ghost Town, CA
Day 115, Wednesday, February 22, 2017, Red Rock Canyon State Park, CA
Day 116, Thursday, February 23, 2017, Texas Springs Campground, Death Valley National Park, CA
Day 117, Friday, February 24, 2017, Texas Springs Campground, Death Valley National Park, CA, Day 2
Day 118, Saturday, February 25, 2017, Texas Springs Campground, Death Valley National Park, CA, Day 3
Day 119, Sunday, February 26, 2017, Texas Springs Campground, Death Valley National Park, CA, Day 4
Day 120, Monday, February 27, 2017, Texas Springs Campground, Death Valley National Park, CA, Day 5
Day 121, Tuesday, February 28, 2017, Valley of Fire State Park, NV
Day 122, Wednesday, March 1, 2017, Valley of Fire State Park, NV, Day 2
Day 123, Thursday, March 2, 2017, Valley of Fire State Park, NV, Day 3
Day 124, Friday, March 3, 2017, Valley of Fire State Park, NV, Day 4
Day 125, Saturday, March 4, 2017, Valley of Fire State Park, NV, Day 5
Day 126, Sunday, March 5, 2017, Snowbird RV Resort, Fort Mohave, AZ
Day 127, Monday, March 6, 2017, Lake Havasu City State Park, AZ
Day 128, Tuesday, March 7, 2017, La Paz County Park, Parker, AZ
Day 129, Wednesday, March 8, 2017, La Paz County Park, Parker, AZ, Day 2
Day 130, Thursday, March 9, 2017, La Paz County Park, Parker, AZ, Day 3
Day 131, Friday, March 10, 2017, La Paz County Park, Parker, AZ, Day 4
Day 132, Saturday, March 11, 2017, La Paz County Park, Parker, AZ, Day 5
Day 133, Sunday, March 12, 2017, Lost Dutchman State Park, AZ
Day 134, Monday, March 13, 2017, Fort Wilcox RV Park, AZ
Day 135, Tuesday, March 14, 2017, Rockhound State Park, NM
Day 136, Wednesday, March 15, 2017, Rockhound State Park, NM, Day 2
Day 137, Thursday, March 16, 2017, Trailer Village RV Park, Roswell, NM
Day 138, Friday, March 17, 2017, Trailer Village RV Park, Roswell, NM, Day 2
Day 139, Saturday, March 18, 2017, Clovis RV Park, NM
Day 140, Sunday, March 19, 2017, Oasis RV Resort, Amarillo, TX
Day 141, Monday, March 20, 2017, Sagebrush Campground, Palo Duro Canyon State Park, TX
Day 142, Tuesday, March 21, 2017, Sagebrush Campground, Palo Duro Canyon State Park, TX, Day 2
Day 143, Wednesday, March 22, 2017, Sagebrush Campground, Palo Duro Canyon State Park, TX, Day 3
Day 144, Thursday, March 23, 2017, Cedar Point Campground, Foss State Park, OK
Day 145, Friday, March 24, 2017, Dripping Springs State Park / Okmulgee City Park, Okmulgee, OK
Day 146, Saturday, March 25, 2017, Dripping Springs State Park / Okmulgee City Park, Okmulgee, OK, Day 2
Day 147, Sunday, March 26, 2017, ACE Campground, Ozark, AR
Day 148, Monday, March 27, 2017, Aux ARC Campground, Ozark, AR,Day 2
Day 149, Tuesday, March 28, 2017, Aux ARC Campground, Ozark, AR ,Day 3
Day 150, Wednesday, March 29, 2017, Maumelle Corps of Engineers Campground, Little Rock, AR
Day 151, Thursday, March 30, 2017, Maumelle Corps of Engineers Campground, Little Rock, AR, Day 2
Day 152, Friday, March 31, 2017, Village Creek State Park, Wynne, AR
Day 153, Saturday, April 1, 2017, Village Creek State Park, Wynne, AR, Day 2
Day 154, Sunday, April 2, 2017, Chickasaw State Park, Chickasaw, TN
Day 155, Monday, April 3, 2017, David Crockett State Park, Lawrenceburg, TN
Day 156, Tuesday, April 4, 2017, David Crockett State Park, Lawrenceburg, TN, Day 2
Day 157, Wednesday, April 5, 2017, David Crockett State Park, Lawrenceburg, TN, Day 3
Day 158, Thursday, April 6, 2017, David Crockett State Park, Lawrenceburg, TN, Day 4
Day 159, Friday, April 7, 2017, David Crockett State Park, Lawrenceburg, TN, Day 5
Day 160, Saturday, April 8, 2017, David Crockett State Park, Lawrenceburg, TN, Day 6
Day 161, Sunday, April 9, 2017, Edgar Evins State Park, TN
Day 162, Monday, April 10, 2017, Edgar Evins State Park, TN, Day 2
Day 163, Tuesday, April 11, 2017, Edgar Evins State Park, TN, Day 3
Day 164, Wednesday, April 12, 2017, Edgar Evins State Park, TN, Day 4
Day 165, Thursday, April 13, 2017, Edgar Evins State Park, TN, Day 5
Day 166, Friday, April 14, 2017, Edgar Evins State Park, TN, Day 6
Day 167, Saturday, April 15, 2017, Edgar Evins State Park, TN, Day 7
Day 168, Sunday, April 16, 2017, Cumberland Mountain State Park, TN
Day 169, Monday, April 17, 2017, Cumberland Mountain State Park, TN, Day 2
Day 170, Tuesday, April 18, 2017, Cumberland Mountain State Park, TN, Day 3
Day 171, Wednesday, April 19, Townsand KOA, TN
Day 172, Thursday, April 20, 2017, Townsand KOA,Day 2, & The Great Smoky Mountain National Park
Day 173, Friday, April 21, 2017, Townsand KOA,Day 3
Day 174, Saturday, April 22, 2017, Townsand KOA, Day 4
Day 175, Sunday, April 23, 2017, Townsand KOA, Day 5
Day 176, Monday, April 24, 2017, Hungry Mother State Park, VA
Day 177, Tuesday, April 25, 2017, Hungry Mother State Park, VA, Day 2
Day 178, Wednesday, April 26, 2017, Natural Chimneys County Park, Mt Solon, VA
Day 179, Thursday, April 27, 2017, Greenbelt National Park, MD
Day 180, Friday, April 28, 2017, Greenbelt National Park, MD, Day 2
Day 181, Saturday, April 29, 2017, Greenbelt National Park, MD, Day 3
Day 182, Sunday, April 30, 2017, Jonestown KOA, Jonestown, PA
Day 183, Monday, May 1, 2017, Don & Anne's, Binghamton, NY
Day 184, Tuesday, May 2, 2017, Home, Oswego, NY
Friday - Sunday, October 28 - 30, 2016 - Getting Ready, Oswego, NY, 0 Miles, 0 Miles For the Trip
It is getting to that time again. Actually, it is a bit past it; it was down to 31°F this morning. I'm staying in Oswego a bit later than last year because the official reopening of Waterman Theatre (the theatre I worked (in fact, helped in the initial consulting of the design & construction) in for 32 years before retiring) is this weekend. It has been closed for two years while Tyler Hall gets a $20 million dollar overhaul. Since the theatre and building opened in 1968, it is about time!
Open houses, tours, and lots of former students & staff here for the celebration. I got a chance to visit with my mentor, John Mincher who is up from Florida for the reopening, and a couple of former students, including Denise Grillo, our sometimes baby sitter & currently doing production props for Hamilton & its tours. We had a great dinner at Alex on the Lake in Oswego.
I'm packing the trailer & truck, using a packing list I made after a couple of trips where I forgot important stuff. Of course I probably left something important off the list, but each time I use it it gets updated, so it can only get better. Since I spent most of the weekend at the theatre & seeing old friends, I spent most of Sunday finishing packing. I am going to go without my Weight Distribution Hitch for this trip. I took the trailer out with both the truck & it fully packed and drove some bad roads to see how it felt. Not quite as "linked together" as it feels with the WDH, but it saves over 50 lbs of weight on the hitch & makes it much easier to hook up & unhook.
Starting mileage on the truck is 6,887. Since the scales are not open at the transfer station, I don't have the final combined trailer & truck weights, but I did get a chance to weigh the truck fully packed last week & it is 20 lbs over what it was for the trip to New England - 5220 vs 5200 lbs. The combined weight is about the same - 8480 lbs, which puts the trailer at around 3200 lbs, a bit heavier than my usual 3010 lbs, but within the trailer's rating.
The plan is to slowly head to Texas. I'm spending a couple of days at Hungry Mother State Park in Virginia for a "Fiberglass Mini Rally", Nov 3-6. After that I plan to spend a bit of time in the Rio Grand Valley area, attend the Matagorda Madness Rally December 1 - 4th, then head to Big Bend, then on to Arizona & Quartzsite for the heart of winter. I'm also planning some side trips to southern California. Along the way and way back I'll hit a couple of Fiberglass Trailer Rallies, and hope to explore new places. I expect to return to Oswego towards the end of April.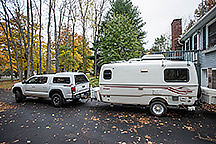 All packed & ready to go. The ash trees are done, but the maples along Lakeshore Road still have some color. For those interested in statistics, since April, 2011 as of the start of this trip I have spent 900 nights in the trailer & towed it 77,303 miles. Since I've ordered a 2017 21' Escape that is due to be picked up in October, 2017, I will be selling the 17B when I return to the east after this winter trip. I don't think I can get away with describing it as "hardly used!"
Until next time -
---
This page is maintained by: vermilye@oswego.edu
Last Update: October 20, 2019