2017 - 2018 Trip to Pick Up the New Escape 21 & More
Day 13
2011 Trip across the US
2012 Trip across the US
2014 Trip across the US
2015 Trip to Alaska
2015-16 Southwest Trip
2016 New England Trip
2016 - 17 Southwest Trip
Thursday, August 17, 2017 - Silver Lake Park, Maple Falls, WA, 14 Miles, 14 Towing Miles For the Trip
Well, here it is the first day/night in the trailer & I can't tell anyone. Here at the Silver Lake campground there is no cell service, either AT&T or Verizon. I'll put the page together, and hope to post it tomorrow when I go shopping.
It was quite a day! To start with, I have one thing to point out about the Best Western/Rainbow Country Inn. They have the worst separation between floors of any motel I've been in. A beautiful building with a central atrium, indoor pool, free breakfast, etc, but you can hear every step someone in the room above makes. Not just jumping or dropping things; every step make the floor creak.
Anyhow, the people above me didn't get up before me, so I just had to listen to them getting ready for bed the night before (I was up at 6:30AM, far too early for us retired folks. A quick shower, breakfast & check out then over to Escape for my orientation. It went well, and I was done (and the additions to the trailer were also done) by 9:45.
Around 10:00 we headed towards the border. As usual, I managed to get in the slowest line. Somehow at grocery stores & borders that always happens to me. The trailer went through the commercial lane and even though I had a 45 minute wait, I beat the trailer to Bob's Burgers. We switched tow vehicles & I was off for my first stop - across the street to U-Haul.
While it was much cooler than when I loaded the U-Haul in Oswego, it was still quite a job getting everything in the Escape 21. I didn't bother unpacking the boxes at U-Haul, just stuffed them in the trailer. A 14 mile drive to Silver Lake Park & the Red Mountain Campground, Site 4. I'll be here for 5 nights so I can skip the Eclipse madness. It is a water & electric site for $31.00 per night. I thought I saw showers on the campground map, but that must have been one of the other campgrounds in the park - there are 3 of them. All that is here is a rough outhouse. Glad I have the trailer! I'm also glad I have a reservation. The campground is full over the weekend, at least according to the tags on the site posts.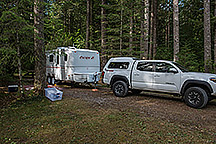 Site 4, Red Mountain Campground
I spent most of the day unpacking & trying to find places for everything. The 21 is a much bigger trailer than the 17 (well obviously 4' longer) and is wider & taller, but somehow I still had a difficult time finding room for everything. I'm sure I'll adjust to the new storage locations as I settle into the trailer. Right now I'm just trying to make enough room to eat & sleep!
I'm shot - Dinner was a couple of peanut butter & jelly sandwiches (actually homemade Oswego strawberry jam) and some chips. I didn't have the energy to dig out the grill, but I now have 8 empty storage boxes. I left them next to the dumpster in case someone else can use them.
Since there is no cell coverage within 10 - 15 miles, I suspect my postings will be a bit erratic over the next week or so.
Until Next Time-
---
This page is maintained by: vermilye@oswego.edu
Last Update: August 18, 2017