2017 - 2018 Trip to Pick Up the New Escape 21 & More
Day 26
2011 Trip across the US
2012 Trip across the US
2014 Trip across the US
2015 Trip to Alaska
2015-16 Southwest Trip
2016 New England Trip
2016 - 17 Southwest Trip
Wednesday, August 30, 2017 - Wheeler County RV Park, Fossil, OR, Day 4, 0 Miles, 448.2 Towing Miles For the Trip
I didn't do much at all today. Most of it spent reading or listening to the radio. I did dig out some of the projects I have lined up for the trailer, but the only one I got done was mounting the XM Radio next to the bed. I'll probably start on the upper cabinet lighting tomorrow - all the parts are ready to go.
Last night a small herd of deer wandered through the campground. The seemed to be used to people since they didn't run off when I got out of my chair, opened the back door of the truck and got out the camera.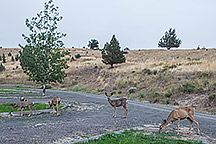 Visiting Deer
We now have 4 RVs in the campground - a Born Free Class C pulled into the site next to mine.
Dinner was a Bubba burger, Bush baked beans & snap peas.
Until next time -
---
This page is maintained by: vermilye@oswego.edu
Last Update: August 31, 2017