2017 - 2018 Trip to Pick Up the New Escape 21 & More
Day 34
2011 Trip across the US
2012 Trip across the US
2014 Trip across the US
2015 Trip to Alaska
2015-16 Southwest Trip
2016 New England Trip
2016 - 17 Southwest Trip
Thursday, September 7, 2017 - The Narrows, Princeton, OR, 99.1 Miles, 640.8 Towing Miles For the Trip
The smoke around John Day was suppose to clear up overnight, but it was at least as thick this morning as it was yesterday. It got worse as I drove south on US 395, but after driving over the ridge on 205 it started to clear, and here in the campground it isn't too bad at all. It was interesting as I got close to the Narrows Campground. The "Lake" on both sides of the road is fields full of cattle. The Malheur Wildlife Refuge would probably attract migrating birds it there was water, but this time of year (at least this year) it is dry.
After setting up the trailer I drove back to the refuge. There is a small section that OR 205 crosses that has a bit of water on each side. There was a group of serious birders wandering around so I stopped for some photos. Don't expect correct IDs for the birds, but here are a few:
| | | | |
| --- | --- | --- | --- |
| | | | |
| An Ibis of Some Kind | Great Egrets | ? Not an Egret | An Ibis |
| | | | |
| Grebe ? | ? Ducks | A Weed | American Bittern |
| | | | |
| Antelope | An Ibis | ? | An Ibis |
| | | | |
| An Ibis in Flight | An Ibis in Flight | | |
Pretty lousy IDs, but I never claimed to be a birder!
I'm in site 11, a full hook up + cable site for $27.22 per night. This is one of the few campgrounds in the US (Canada seems to be an exception) where the campground WiFi is faster than either AT&T or Verizon. Both are available, but even with the amplifier, on AT&T I'm only getting around -105dBm (-134dBm without the amp). Verizon is -91dBm 3G with the amp & - 110dBm without it.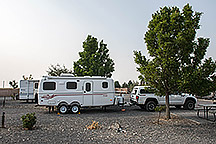 Site 11, The Narrows
The campground has individual bathrooms with showers ($2.00 for 4 minutes!) a laundry, and a restaurant. It needs all that - the nearest town is Burns, OR, about 26 miles away. I can't even get any FM stations.
Dinner was a microwaved Amy's Thai Pad Thai.
Until next time -
---
This page is maintained by: vermilye@oswego.edu
Last Update: September 14, 2017