2017 - 2018 Trip to Pick Up the New Escape 21 & More
Day 45
2011 Trip across the US
2012 Trip across the US
2014 Trip across the US
2015 Trip to Alaska
2015-16 Southwest Trip
2016 New England Trip
2016 - 17 Southwest Trip
Monday, September 18, 2017 - Goose Lake State Park, Lakeview, OR, 132.1 Miles, 910.7 Towing Miles For the Trip
It was a warm night, only getting down to the mid 50's. After breakfast. I packed up the trailer & headed south. Most of the drive was on US 395, a road I have driven in all three of the western states. I stopped gas in a small station & bought $20.00 worth at $4.75 per gallon! Of course just 30 miles down the road it was $3.09 at Lakeview, OR.
Goose Lake State Park is about 16 miles south of Lakeview, OR, right on the border with California. A mostly empty park that closes at the end of the month. All the sites have water & electric (20 amp) and there is a bathroom with hot showers not too far from my site - 40. $22.00 per night. I signed up for three nights, set up the trailer, then packed my laundry into a laundry basket & headed to Lakeview and the only laundromat in town.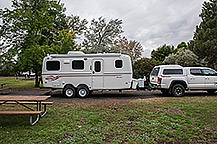 Site 40
Not the nicest laundromat I've been in, and over half the machines had "Out of Order" signs on them, but a pair that worked got the job done. After laundry, I went looking for a barber shop. I found one that had a sign on the door - "gone hunting". There was a beauty parlor next door & I asked if they knew of another barber shop. They said no, but they cut men's hair, so I finally got a #3 buzz cut (#4 on the beard).
Back at the campground I got to try the hot shower (there is only one) to get rid of the itchy haircut left overs. While getting a clipper only buzz cut is easier & more consistent going from barber to barber, it leaves far more short pieces of hair that require a shower unless you want to sleep with stabbing hairs for the next week. The shower was nice & hot (and free), but the bathroom is unheated, so getting dry was quick.
While I'm only about 800' higher than yesterday, it is much cooler. Right now (6:00), it is down to 51°F. There has been light rain off & on during the drive & here at the campground. I fired up the electric heater for the first time - I had to turn it off when microwaving the stew since both running together drew 22 amps.
Dinner was left over stew. As usual, it was better on the second day than the first.
Until next time -
---
This page is maintained by: vermilye@oswego.edu
Last Update: September 19, 2017