2017 - 2018 Trip to Pick Up the New Escape 21 & More
Day 48
2011 Trip across the US
2012 Trip across the US
2014 Trip across the US
2015 Trip to Alaska
2015-16 Southwest Trip
2016 New England Trip
2016 - 17 Southwest Trip
Thursday, September 21, 2017 - Klamath Falls KOA, Klamath Falls, OR, 101.6 Miles, 1,012.3 Towing Miles For the Trip
It cooled down to 32°F last night, but the electric heater kept the trailer at 70°F all night. There were quite a few RVs & tents at the Goose Lake Campground last night. I'm not sure why, but during my morning walk I counted 11 campers.
After breakfast, I packed up the trailer & headed out. My Tacoma tire pressure alarm went off - I knew they were on the edge pressure wise, and the cold morning took one tire below 24PSI. I stopped at every gas station between Lakeview & Klamath Falls, and none had air. I finally found a station in Klamath Falls (The Washburn Fuel at 3320 Washburn Way for those interested) that not only had air, but it was free. On top of that, regular was $2.799 per gallon, the cheapest I've found in Oregon.
There are not a lot of choices in Klamath Falls for campgrounds, at least ones that are recommended in my campground guide, so I'm at a KOA for the first time on the trip. As I've said before, KOA's are more expensive than most, but like McDonalds, you pretty much know what your getting. I'm in site 37, a full hookup site with cable for $37.07 with my membership discount.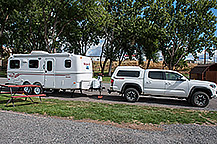 Site 37, Klamath Falls KOA
I stopped at a Fred Meyers & a Walmart to pick up a list of stuff that I haven't been able to find at the nearby small stores over the last couple of weeks. For some reason, I had my heart set on chicken thighs & legs for dinner, but what was available at Walmart didn't look all that appetizing. On the way back to the campground I saw a Jack in the Box, and never having been to one, thought they sold chicken. Well, they do, but only as sandwiches. So, dinner was a Crispy Chicken Club sandwich & Plank Onion Rings. A very messy sandwich, but pretty good.
Until next time -
---
This page is maintained by: vermilye@oswego.edu
Last Update: September 22, 2017