2017 - 2018 Trip to Pick Up the New Escape 21 & More
Day 66
2011 Trip across the US
2012 Trip across the US
2014 Trip across the US
2015 Trip to Alaska
2015-16 Southwest Trip
2016 New England Trip
2016 - 17 Southwest Trip
Monday, October 9, 2017 - Hi-Way Haven RV Park, Sutherlin, OR, 140 Miles, 1,443.2 Towing Miles For the Trip
I had a bit of a rough night with a stomach bug, but managed to get to sleep around 3:00 & hit the road around 10:00. Most of the drive was on I 5, stopping for the night at the Hi-Way Haven RV Park in Sutherlin, OR. An interesting place. I don't know if it was built on an old movie drive in or if it is an add on, but they have a drive in sized movie screen on which they show movies during the weekends. They even have a FM transmitter so you can listen to the movie on your radio while sitting in your trailer. Speaking of radios, there is fair (-101dBm) Verizon & AT&T coverage in the park. Not quite fast enough to keep a streaming radio station going, but fast enough for mail & posting journal updates. I didn't try the park WiFi, but it is free (I just tried to log on, and the password they have in their printed handout doesn't work! I did toss the Verizon Jetpack in the amplifier & it seems to be working with a 4 bar 4G LTE (-85dBm) signal.
I'm in site 75, a full hookup site for $34.50 per night for 3 nights. A very commercial, parking lot RV park with gravel sites, a concrete patio with a table & a pair of chairs. Nice showers, other than the high pressure, low volume shower heads. I got my first propane refill at $2.08 per gallon.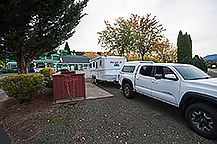 Site 75
There is a couple from California staying in a Casita next door. We chatted a bit about fiberglass trailers & the area.
Rather than cook, I went out for pizza for dinner. I had a chicken garlic pizza at the Dakota Street Pizza Cpmpany in Sutherlin. A very good thin crust pizza.
Until Tomorrow -
---
This page is maintained by: vermilye@oswego.edu
Last Update: October 11, 2017