2017 - 2018 Trip to Pick Up the New Escape 21 & More
Day 74
2011 Trip across the US
2012 Trip across the US
2014 Trip across the US
2015 Trip to Alaska
2015-16 Southwest Trip
2016 New England Trip
2016 - 17 Southwest Trip
Tuesday, October 17, 2017 - Woodson Bridge RV Park, Corning, CA, 194.1 Miles, 1,765.7 Towing Miles For the Trip
The usual late start (10:00AM). I was reading a thread on the Escape Forum where numerous members were extolling on the virtues of hitting the road at 3:00 or 4:00AM. Heck, that is about the time I wake up, hit the bathroom, and try to get back to sleep! More power to them - I'm sure the traffic is much better than later in the morning, but by 10:00, most places have settled down and it much better fits my sleeping habits!
Another day doing around 200 miles south on I 5. A pretty part of California, at least for the first part of the drive. The unpretty part was the first stop for gas - $3.45 a gallon, although I found it for under $3.00 further down the road at a Loves.
I really have a bone to pick with Garmin. I was interrupted while hooking up the trailer by a fellow traveler & a discussion of the Southwest National Parks, and managed to skip inserting the pin that locks the hitch closed. Not really a problem since I never used one with the 17, and the hitch never opened, but since they gave me one with the 21, I've been in the habit of using it. So, I left the campground with it sitting on the propane tank cover. About 20 miles down the road I remembered that I didn't use it, but by then it was long gone.
So, I asked my Garmin for a Camping World "along my route". It spun it's wheels for 5 minutes, then said there weren't any. Around 100 miles later I cruised by a Camping World. True, the entrance wasn't directly off I5, but it was on a parallel road about 100' away, and within 1/2 a mile of an exit. So, I stopped, and the wall hook that should have had the pin I needed was empty. I had the parts guy check, and he didn't have any in the back room. Maybe Garmin knew? I don't think so! Anyhow, there was another RV store next door that did have the pin, and even gave me a Veteran's discount.
I stopped for the day a bit later than usual (around 3:30) at the Woodson Bridge RV Park. It is an older park with many permanent residents, but full hookups, including cable, clean but worn bathrooms, and a laundry, which I will use tomorrow. I'm in site 48 for $34.20 per night. Sites on the Sacramento River side of the park are a bit more, but I can see it from my site, so I don't need the more expensive real estate.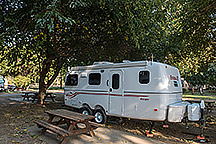 Site 48
After setting up I headed for Safeway for some supplies, including a Paul Neumann Pepperoni Pizza for dinner. Since it is still pretty warm out (around 84°F), I got out the electric toaster oven and cooked it on the picnic table.
Until Tomorrow -
---
This page is maintained by: vermilye@oswego.edu
Last Update: October 18, 2017