2017 - 2018 Trip to Pick Up the New Escape 21 & More
Day 85
2011 Trip across the US
2012 Trip across the US
2014 Trip across the US
2015 Trip to Alaska
2015-16 Southwest Trip
2016 New England Trip
2016 - 17 Southwest Trip
Saturday, October 28, 2017 - Red Rock Canyon State Park, Cantil, CA, Day 4, 0 Miles, 2,284.2 Towing Miles For the Trip
Well, this may be the first day here at Red Rock Canyon that I can't post. The campground WiFi is down, as is AT&T. I'll put the page together & try again later. Well, it is later & the park WiFi is back up; AT&T is still dead.
No overnight photos - a group of boy scouts moved in on both sides of my site. Ten tents right next door & another 5 just down the hill. Not a particularly noisy bunch, but lots of light.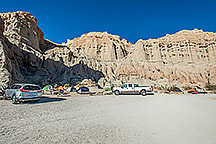 Boy Scouts Next Door
After breakfast & a short walk around the campground, I headed to Ridgecrest to do laundry. I found the I Wash, a nice laundromat that uses cards rather than quarters. You pay $2.00 for the card, and buy time on the machines in $5.00 increments. I guessed at $10.00 worth to wash & dry, put $2.50 each into 2 washers, and $1.50 each into two dryers, got my $2.00 back by turning in the card, leaving $2.00 on the card. It was still less expensive than many of the laundromats I've used, and while I could have kept the card, who knows when I'll be back.
After that I headed to Walmart, stopping om the way to fill the truck @ $2.739 per gallon at a Fastrip gas station. Gas prices are all over the place - on the drive I saw it as high as $4.75 per gallon. I suspect it will get more expensive as I get closer to Death Valley.
Dinner was spaghetti and meatballs.
Hopefully, until tomorrow! -
---
This page is maintained by: vermilye@oswego.edu
Last Update: October 29, 2017