2017 - 2018 Trip to Pick Up the New Escape 21 & More
Day 89
2011 Trip across the US
2012 Trip across the US
2014 Trip across the US
2015 Trip to Alaska
2015-16 Southwest Trip
2016 New England Trip
2016 - 17 Southwest Trip
Wednesday, November 1, 2017 - Valley of Fire State Park, Overton, NV, 180.5 Miles, 2,633.4 Towing Miles For the Trip
Much of today's drive was on CA 190 out of Death Valley, and US 95 to Las Vegas. Glad I had enough gas to make it to Nevada. California raised the gas tax by $.12 today. Of course the stations added a bit more on their own. The station at Furnace Creek went from $3.89 to $4.15 per gallon. It was $2.79 at my first Nevada stop & $2.59 at the second.
The Valley of Fire State Park is about 50 miles northeast of Las Vegas. They have 2 campgrounds, Atlatl Rock, which is 1/2 primitive & half with electric & water, with bathrooms that have showers. The Arch Rock campground is all primitive & vault toilets. I was hoping for a hookup site, and got lucky. When my wife Carol was alive we always seemed to find parking spots, campground sites, etc. I don't know how she did it, but she must have been looking over my shoulder today. Only one open site, and on the way in I passed a guy pulling a trailer that pulled into the hook up part of the campground 30 seconds after I grabbed the space. I hope he didn't recognize the trailer...
A huge site with, and, like most here at Atlatl Rock, with hookups on the wrong side for trailers. I could almost manage to unhook the trailer & still get out the truck by pulling in rather than backing in, which would put my door facing away from the utilities (and the bees that hang around the water tap) and facing the picnic table across the double wide site. Maybe I'll think about jockeying the trailer around tomorrow. In any case, I'm in site 41, an electric & water site for $30.00 per night. The $10.00 park entry fee is deducted from the first night's stay. The 30 amp connection looked burned, and had an open ground; I used an adapter to connect to the 50 amp connector.
No AT&T without an amplifier (with one a usable LTE data signal) and a weak Verizon signal without an amp. Both in the neighborhood of -95dBm. When streaming the Phoenix NPR station on the amplified AT&T Mobley WiFi, it dropped the connection a couple of times. I didn't try the Verizon connection.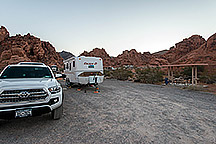 Site 41
After setting up I drove to Overton (about 15 miles away) to check out Lin's Market, find out if the Suds & Duds Laundromat reopened (it didn't), Ace Hardware for a paint roller (No, I'm not painting anything, but need a roller handle to make an adapter to mount my glow ball on a new mast that is a roller extension handle), and get a haircut. As usual, I bought way too much at Lin's, but now have dinners for the rest of the week.
Speaking of dinner, I had chicken tacos.
Until Tomorrow -
---
This page is maintained by: vermilye@oswego.edu
Last Update: November 2, 2017