2017 - 2018 Trip to Pick Up the New Escape 21 & More
Day 99
2011 Trip across the US
2012 Trip across the US
2014 Trip across the US
2015 Trip to Alaska
2015-16 Southwest Trip
2016 New England Trip
2016 - 17 Southwest Trip
Saturday, November 11, 2017 - Jumbo Rocks, Joshua Tree National Park, CA, Day 4, 0 Miles, 2,950.7 Towing Miles For the Trip
I made bacon & pancakes for breakfast, then settled down to do some reading. Got bored, walked around the completely filled campground. It has reached the "pay no attention to the rules" phase - 5-6 tents on a site, cars double parked, along the side of the road, etc. I haven't seen a ranger drive through - I think they are hiding!
Around 11:00 I took a walk on the Skull Rock trail. If you want a photo of Skull Rock without people, don't go on a holiday Saturday morning! I did take a few photos along the trail. On the way back I walked to the entrance & paid for Sunday night. On the way back to the campsite, I saw what I thought was a scene that appeared in the Southern California copy of Photographing the Southwest by Laurent Martres. If you are a photographer interested in the Southwest, these are a great series of books filled with suggestions for places to shoot. Anyhow, in the section for Joshua Tree, there is a wonderful image of a vertical rock and weather beaten juniper. The description said it was taken near Jumbo Rocks. Now, if you have been here, that doesn't tell you much - there are acres of rocks. Still, from the road it looked like it might be the spot. It was, and I have to admit to copying Laurent's composition. I took a couple of photographs, the last two around 3:30 when the light was better.
| | | | |
| --- | --- | --- | --- |
| | | | |
| Skull Rock Trail | Skull Rock Trail - Female Juniper | Skull Rock Trail | Skull Rock |
| | | | |
| Skull Rock | Rock & Juniper | Rock & Juniper Late Afternoon | Rock & Juniper Late Afternoon |
I probably won't post this (or yesterday's) page today. The traffic is pretty busy, and they check your pass at the gate. While yesterday was pretty quiet, I suspect there will be quite a line today.
There is a astronomy program at the amphitheater tonight. A star talk around 6:00, and viewing through telescopes until 9:00. I'll probably check it out.
I did. There were lots of clouds, but a ranger gave a talk, pointing out constellations with a green laser pointer. I managed to get a fuzzy photo. A 1/3 second handheld at a very high ISO of 3200, further pushed 3 stops in Lightroom; it was very dark: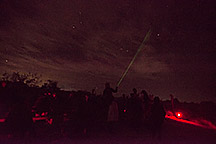 Ranger Star Program
There is one disadvantage to Site 77. It is at the end of the campground, and lots of people want to hike the rocks beyond the site. There is a wash that goes behind the campsites, but a number of people just march through your site to get to the rock field. No only that, but they try to park in your or your neighbor's parking space. I chased a car full of hikers away just before my neighbor got back. There aren't many parking spaces for non campers in the campground (which makes sense) but non campers still want to to use the campground as a base for hiking among the rocks.
When I walked up to the amphitheater for the astronomy program I discovered another benefit of site 77, peace & quiet. Lots of noise, bright lights, etc in the central area of the campground. Here on the edge it is nice!
Dinner was peanut butter & homemade strawberry jam sandwiches.
Until the Next Internet Connection -
---
This page is maintained by: vermilye@oswego.edu
Last Update: November 13, 2017