2017 - 2018 Trip to Pick Up the New Escape 21 & More
Day 121
2011 Trip across the US
2012 Trip across the US
2014 Trip across the US
2015 Trip to Alaska
2015-16 Southwest Trip
2016 New England Trip
2016 - 17 Southwest Trip
Sunday, December 3, 2017 - La Posa West, LTVA, Quartzsite, AZ, Day 18, 0 Miles, 3,253.8 Towing Miles For the Trip
A relaxing Sunday. I started off the day with my usual walk for coffee, then cleaned some of the bug spatter off the front of the trailer. I'm using a spray detailer, which works OK without water.
I took a break to head to town to buy a package of kettle corn, after which I drove to the Kofa Crystal Mountain, where they allow camping, to see if the road was good enough to haul the trailer out there. 9 miles of rough dirt road; I'm not sure it is worth t, but it would be a place where the night sky is dark. There was one truck camper parked in the area, but that was it. I guess I'll decide when I get back from Sedona since there is far too much moon between now & then.
There was a pretty sunset: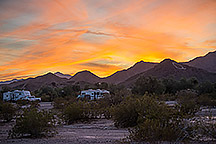 Tonight's Sunset
Dinner was a Bubba Burger & the rest of the asparagus.
Until Tomorrow -
---
This page is maintained by: vermilye@oswego.edu
Last Update: December 4, 2017