2017 - 2018 Trip to Pick Up the New Escape 21 & More
Day 130
2011 Trip across the US
2012 Trip across the US
2014 Trip across the US
2015 Trip to Alaska
2015-16 Southwest Trip
2016 New England Trip
2016 - 17 Southwest Trip
Tuesday, December 12, 2017 - La Posa West LTVA, Quartzsite, AZ, Day 23, 0 Miles, 3,740.2 Towing Miles For the Trip
I don't know why, but it was colder this morning at Quartzsite than yesterday at Sedona, 3000' higher. I started out wearing my heavy quilted vest, but after setting up the portable solar panel & a few other things around the trailer, it warmed up enough for the light one, which I wore for the walk for coffee.
After breakfast & a bit of reading, I called the Rite Aid in Blythe to check that they had my eye drops in stock. They did, so I drove to Blythe for drops & Albertson's for supplies. While I prefer Safeway, there are no Rite Aids in Parker (or anywhere else in Arizona) where the nearest Safeway is located.
Lots of repaving on I 10 between Quartzsite & Blythe so it took a bit longer than expected. Amazing how closing down one lane of a 2 lane interstate can back up traffic.
I picked up some baked chicken & mustard potato salad for an early dinner. The chicken was OK, but the salad too dry. I didn't do any more outside set up, but did replace the smoke/CO detector that insisted in reporting excess CO when nothing that burned was running (other than the refrigerator, which is sealed outside). I now have a separate smoke detector & CO detector that has a display that shows the CO level.
Dinner will be some crackers & cheese since I had a large, late lunch.
Here is the campsite photo. Not all that different from the other La Posa photos since I only moved a few feet, but a different orientation.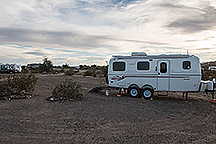 New Location at La Posa West
Until Tomorrow -
---
This page is maintained by: vermilye@oswego.edu
Last Update: December 13, 2017